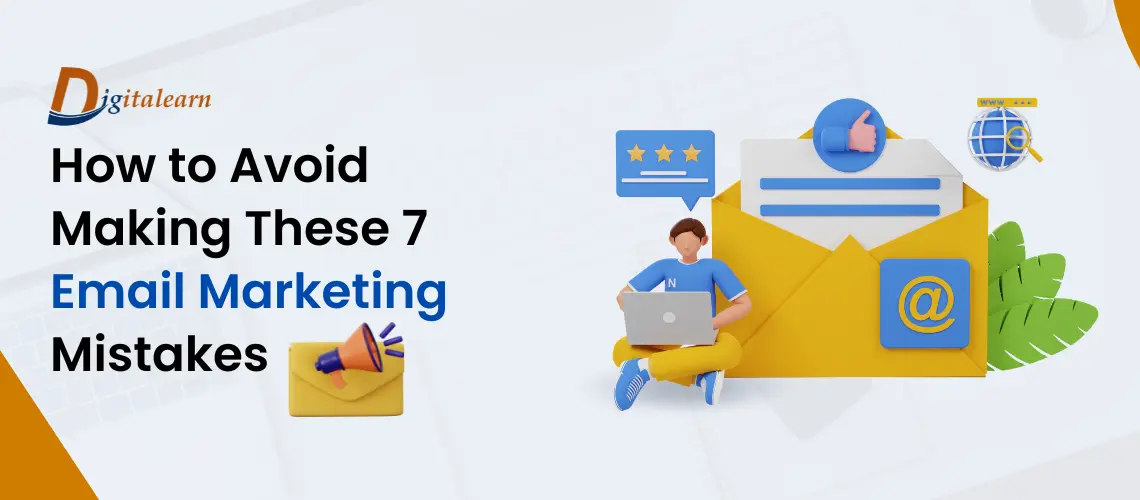 While many are unaware of the power of email marketing strategies, it is becoming one of the emerging trends for online businesses. Being one of the oldest strategies, it has gained widespread popularity, making it possible for companies to boost their conversions. One of the reasons it is becoming one of the most sought-after strategies is the higher number of audiences having email addresses.
However, the reasons most people fail to make the best use of this brilliant strategy. Here we are going to help you discover the top mistakes you need to avoid while doing email marketing. Here we begin:
7 Mistakes You Most Stop Making During Email Marketing Process
Never Depend on Paid Lists
Do you know how many marketers fail to get successful leads through their email marketing process? Paid email lists are viral among marketers as a shortcut for instant success. There are so many mediums available in the market through which you can buy an email list. However, investing in a paid marketing list will be a big mistake.
While you may get happy that you have gained a long email list for your campaign, it may be of no value because of a lack of relevance. That is because the list you purchased will not contain any relevant leads as you can't find whether the leads are actually interested in your products or services.
Never Prevent Visitors from Previewing Text
Do you know why so many visitors return even without opening it? The reason can be a lack of visibility to the preview text. If you cannot give the recipient a compelling glimpse of your email, they will be more likely to return without clicking on it. If you want them to click on your email letter, you must add an engaging preview text to your email to make them click on it.
Experts believe that an engaging email subject line drastically impacts the number of clicks and engagements. So, to make your recipient stop and visit, you must give them a peek at the email in the subject line.
Stop Using More Number of Fonts
Your email must be structured, so visitors don't have to strain their eyes to view content. Sending a cluttered email is the biggest mistake you can make. Suppose your audience opens your email and finds too many fonts and styles cluttered. Do you think they will stay on the page?
They will quickly bounce away. So, if you think you will make your email letter more engaging by using different typefaces, then you are wrong. You need to ensure your email letter looks as simple and clean as possible.
Don't add "No-reply" to the Email address.
Many marketers mistake adding 'no reply' to their email addresses. Remember, email marketing is not merely for marketing. You need to connect with your audience. And for this, you cannot prevent them from replying to your emails. A 'no-reply' email is a big letdown for your readers as they will assume that your emails are only for marketing and not for adding value to their life.
For a successful marketing campaign, you must connect with your audience in a personalized manner. Your customers are more likely to open an email when they find they are written in a personalized way to add value to their lives.
Stop Sending Out Emails Without Signature
Many of you might not know the importance of a signature in an email. A signature gives a touch of personalization to not only the audience but also a sign of professionalism. Your customers have become more aware of identifying genuine and fake marketing promotions.
When you add a well-constructed signature to the end of your email, they will assume that you must be a professional and well-known company adding value to the audience. There are many ways to include a beautiful signature for your emails on the internet, and you can choose one to get the best signature for your email marketing campaign.
Remove People Who Never Open Your Emails
Well, all know the importance of maintaining quality over quantity; the same applies to email marketing campaigns. One of the essential tasks to keep your email marketing quality is putting efforts into leads that are not opening your emails.
You're mistaken if you think sending out emails to many leads is essential. You should stop putting efforts into leads that won't engage, as this will only affect your campaign's quality. There is no advantage in sending emails to leads who never open your emails.
Stop Greeting them With the Customer 'Type.'
Have you ever come across an email and seen the sender greeting you as 'Dear Member' or 'Dear Subscriber'? How did you feel about them? One of the reasons your email marketing campaign fails is not greeting them personally.
Remember your audience pays attention to your emails only when they find you personally pay attention to their needs. So, when you greet them using their name instead of customer type, they will be more likely to engage with your campaign. If you want to learn about the best email marketing strategies, you can join the excellent course at DigitaLearn and follow their blogs to keep yourself updated.