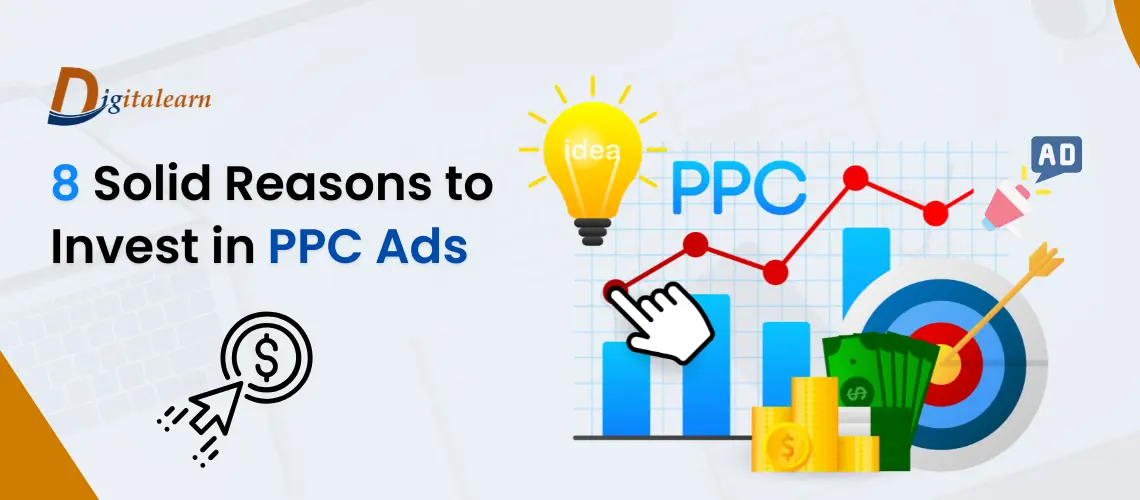 Pay-per-click, most popular as PPC, has massive demand in the digital marketing industry. Many businesses are unaware of the PPC campaign's various benefits and lose ample opportunities.
One of the most challenging jobs of digital marketing experts is convincing their clients about the great benefits of PPC. There are several reasons to use the great PPC methods on the various platforms such as Google Ads, Facebook Ads, Twitter Ads, and Twitter promoted Ads, etc.
Understanding Pay-Per-Click
Search Engine Marketing (SEM) is a strategy based entirely on PPC campaigns, and it is paid advertising that helps businesses get instant results. Simply put, it means advertisements that companies pay for each click they get on the ads, whether in cents or dollars.
Businesses get the opportunities to get the websites to rank on top of the SERPs to get quick results. In return, they need to pay the advertisers for each click they get as decided on the campaign. The overall idea is to help reach your target audience quickly.
Major Benefits of Using PPC for Your Business
Quick and Effective Results
One of the most crucial things online businesses need for online success is heavy traffic and more conversions. The overall goal is to gain heavy sales and higher revenue, which requires more work and time. With the help of Pay-per-click advertisements, businesses can easily focus on their target audience to get quick conversions. With the help of their current results, companies can decide what changes they need to make for the other stages of their campaign.
Easily Used With Other Campaigns
One of the primary reasons businesses are greatly dependent on PPC campaigns is that they can be used easily with other campaigns. You don't have to stop running your old campaigns to start with the PPC campaigns.
Instead, you can quickly test these advertisements using only a few keywords. Suppose you use Local SEO for your website and want to attract more local audiences. You can use PPC efforts to target local audiences by informing them about your services using PPC advertisement.
Cost-Effective Approach
There is a perception that PPC ads are an expensive strategy. However, those who have already invested in the advertisements know how much cost it saves for the businesses. That is why many small companies hesitate once before spending their ad budget. We call it a cost-effective approach because of the ease and value they provide to companies. As there are more conversions than the investment, spending a small amount on the Ads won't be that bad.
Best for Retargeting
Retargeting is a very crucial method digital marketers use to improve their sales. Suppose you are targeting customers using a PPC method for your products and services, but the conversions were not up to the mark as the prices were significantly higher. Now you can start a campaign again for retargeting the same audience that didn't complete the purchase. So, when the advertisement flashes again in front of the user, the chances for conversions will be much higher.
Improves SEO Performance Simultaneously
A powerful SEO strategy is crucial for the success of any business. In order to give a boost to your SEO, you can also use PPC ads. Businesses must target the exact keywords and audience. When a company improves its website for the PPC ads, they ultimately improve its SEO performance.
Further, the searchers will become more aware of your brand with advertisements that will easily recognize you on the organic listings. While using different advertisement platforms like Facebook, Google and Bing, experts can easily collect the data and use the same for their SEO campaigns.
Track and Measure
Unlike other digital marketing efforts, pay-per-click offers excellent advantages to marketers. You have complete control over your PPC advertising campaign, so you can track live results and measure that data. This allows you to identify the deviations and find better ways to improve your campaigns. Using a powerful advertisement strategy, you can easily make changes to save costs and increase ROI.
Higher Chances to Convert
Unlike other strategies where conversion opportunities are meager, businesses are more likely to get higher conversions. That is why it is an ideal choice for those who can easily afford to spend some amount on their advertising budget. As your ads appear on top of the SERPs, users are more likely to click by increasing the conversion rates. So, when the customers reach your website, it becomes your responsibility to get them at the end of the sales funnel.
Best for Starting
Businesses starting their journey or the ones launching new products have to face the challenges of gaining an audience's reach and acceptance. Pay-per-click lets you introduce your products and services to your audience quickly by showcasing them on the top of SERPs. This allows the companies to boost their brand awareness to the target audience. So that, when the same brand appears on the organic listing, users can quickly identify the company and prefer it for their needs. For more benefits and information regarding PPC Ads, you can keep visiting DigitaLearn.