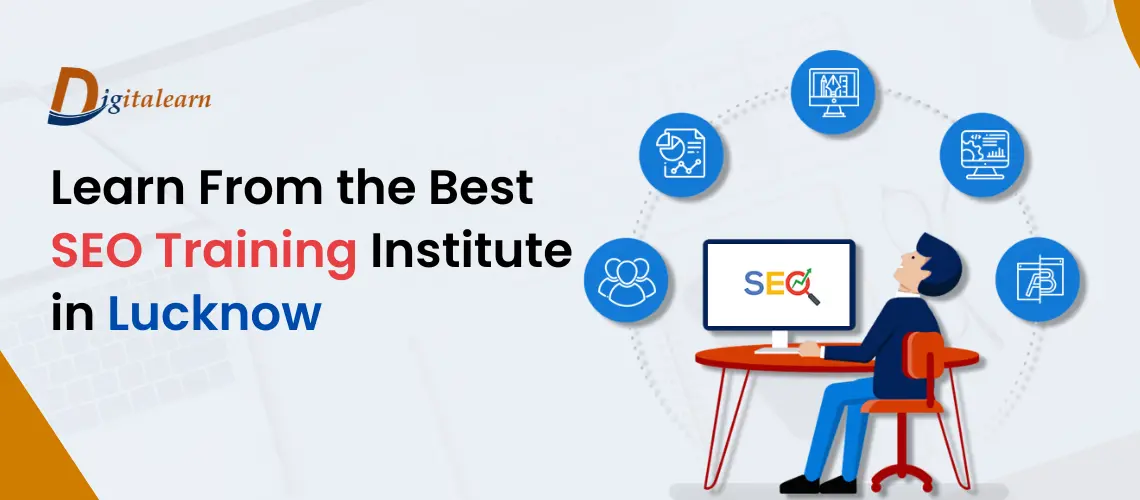 SEO Training Institute in Lucknow is easy to find. But what you need to seek is the best. Learning any new skill becomes easy when you start from the basics and move toward its advanced versions.
Digitalearn is one of Lucknow's oldest and best digital marketing training institutes. With our specialized SEO courses, you can master the art of ranking high on search engines.
Our trained students got placed in top IT companies in Uttar Pradesh and across India. As an SEO training institute in Lucknow, we offer professional SEO training courses, web development courses, and many other fruitful training sessions and courses.
We provide training in such a manner which is actually the requirement of the industries. At Digitalearn, we provide theoretical and live training classes to clear the concepts and fundamentals and master advanced techniques and skills.
You can become a Pro from a Noob in SEO through the best SEO training institute in Lucknow!
Why Choose SEO?
Digital Marketing is growing at a fast pace, and it is evolving daily. Being one of the best SEO training institutes in Lucknow, we keep up with this never-ending and rapid growth to generate job opportunities for our learners.
Digitalearn designed a unique SEO course to give you theoretical knowledge and practical industry-like experience.
SEO these days is taking a new turn. As the use of online platforms is increasing immensely, brands are turning to digital marketing, particularly SEO, for growth. This is increasing the demand for SEO professionals who can handle various tasks to rank websites and pages on search engines to make them perform well.
Besides being one of the best SEO training institutes in Lucknow, we also provide training in full-fledged digital marketing, including SMM, SEM, and SEO.
Our specially designed SEO course is just the solution for search engine optimization needs and requirements. You can learn all the skills required to boost a brand and be the best version of yourself. The course from the SEO training institute in Lucknow will help you get closer insights into search engine optimization as a whole.
Features of the Best SEO Training Institute in Lucknow
Digitalearn offers the following features for its SEO training courses:
Live classes by industry experts.

Flexible payment options.

A short program to be completed quickly for immediate placement.

Affordable program to provide the best value for money.

A certification from Digitalearn on successful completion of the course.

100% placement assistance on completion of the program.

Help in resume building, mock interviews, and industry trends from experienced recruiters.
Who is this SEO training for?
You can opt for the best SEO training institute in Lucknow to seek all the knowledge in this field. But the big question is, who is this for? Let's find out:
Anyone with an urge to learn about the latest trends in the ever-changing digital world of SEO.

Students from non-IT backgrounds who want to get started in the digital marketing sector.

Students with IT/computer science backgrounds who want to quickly learn SEO to boost their career and enhance their existing skills.

Private business owners who want to grow their online presence and increase traffic to their own websites.

Working professional who wants to shape their SEO or digital marketing skills.

Digital marketers who want to excel in SEO.
The Best SEO Training Institute in Lucknow
Digitalearn is the best SEO training institute in Lucknow. Following are the reasons why you should choose us for SEO training:
Most Affordable SEO Training
Our SEO training course covers all the aspects of search engine optimization to make you an SEO Expert within a short time at nearly half the price compared with other institutes.
Industry Exposure and Live Projects
Digitalearn has been providing commendable IT services through its sister company Technophilic to various businesses for the last 3 years. We will involve our learners in many ongoing projects to help them gain experience working on real-world issues faced by SEO professionals. Such exposure is highly valued by IT companies and employers and significantly enhances the prospect of landing a remarkable job.
Extension in Duration
If for any genuine reason, the learner is not able to complete the course within a given time period, we will extend the course duration until they successfully complete the program.
Resume Building and Mock Interviews
Digitalearn will connect the learners with our experienced recruiters to assist them in building a standard professional resume. We also conduct mock interviews to help them prepare for a handsome job.
Continual Support Afterwards
Digitalearn wants its students to excel in the industry. We help our past students with any support or queries they need after completing their training period.