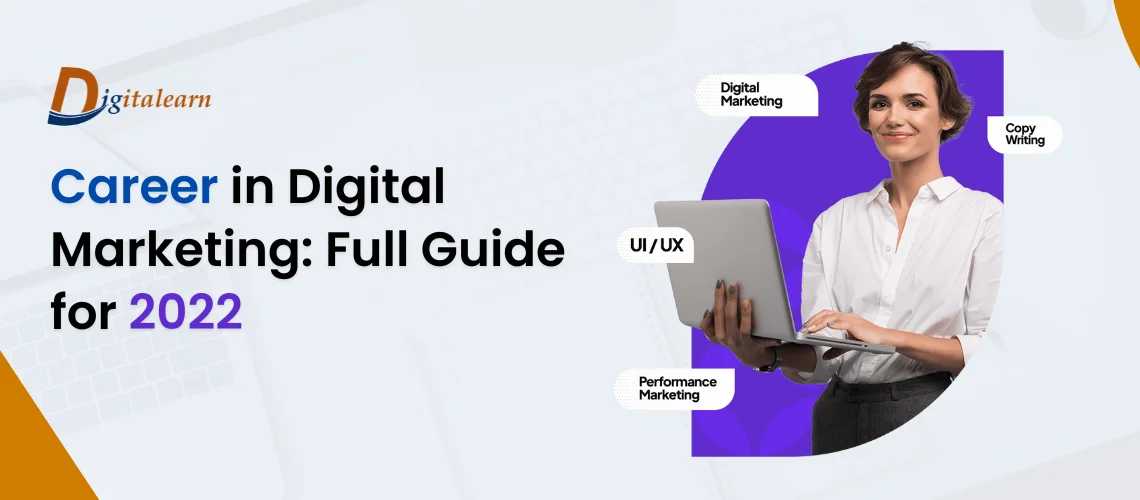 Online Marketing has made a significant impact on the lives of ordinary people and businesses. Now each company strives to be the best in this highly competitive world. For this, individuals run for making a career in digital marketing for better opportunities in the future. With the use of the internet as a weapon to create their brand, businesses now achieve their goals efficiently. Have you even remember the last time you sat in front of the time and watched a promotional ad? Exactly, this is how the evolution of the internet has changed lives in different ways. Now people don't have to move out of their comfort zones to learn about the new product or services released in the market.
As we begin the year, there come new challenges and beginnings in the Digital Marketing Industry. Since you already know that digital marketing depends entirely on trends, it is essential to join a professional course. Understanding the industry and the customers is the most important for making a successful career in digital marketing. But how would you make a strong career in the industry? Here we provide you with a complete guide on creating a solid career in the industry.
Skills you need for a solid digital marketing career.
A successful digital marketing career requires several skills. Let us introduce you to the essential skills needed for a lucrative career in the field:
Communication skills
As you already know, good communication is the key to everyone's success. It is essential to have good communication skills to maintain solid relationships, establish trust, and smoothly exchange information.
Social Media Optimization
Another essential thing required for making a solid career in digital marketing is being active on social media. If individuals want to have a strong career, they should strategically use this powerful weapon.
Basic designing skills
The audience these days look for beautiful and engaging things, and Digital marketers focus on using promotional strategies that are visually appealing and engaging. For this, you require some basic designing skills that can help you create eye-catching visuals.
SEO and SEM skills
Search engines change their algorithms frequently. Therefore, every digital marketer must be capable of optimizing the websites for the search engines. Marketers use SEO and SEM strategies to push websites for better visibility on the search engines. That is why marketers must be able to handle the complexities of search engines.
Content creation
Content creation is amongst the essential job of a digital marketer. If you strive to make a career in digital marketing, you need to have ample knowledge about content creation. Digital marketing is almost impossible without quality content, and it requires tons of content to make your website visible to the audience.
Benefits of a Digital Marketing career in 2022
Do you know how much you can benefit from the online marketing industry for your career? There are many ways to have a lucrative career in digital marketing. Let us tell the ways through which you can benefit from joining a course:
Skills Utilization : Nowadays, companies look for candidates that can provide overall support and services. The best advantage of making a career in digital marketing is you get to learn several things together. Joining a professional certification academy like DigitaLearn is a great place to begin your journey efficiently.
Versatility : As you know, digital marketing is a versatile field, and you need to be enthusiastic to grasp the knowledge quickly. Unlike other areas where you need to specialize, a career in digital marketing requires only dedication and ability to learn new skills. All you require is adequate guidance and practice to polish your skills.
Frequently evolving : When you think of making a career in digital marketing, the first reason that comes to mind is the evolving nature. Nowadays, individuals look for options that are evolving with time and doing a job that does not grow only gets complicated with time. Therefore, digital marketing fields provide a safe and secure field for the employee where they get plenty of options.
Demand : Undoubtedly, digital marketing is in great demand these days, and it offers loads of opportunities for individuals who look for career options that are always in demand. Since the industry has evolved at a fast pace in the last few years, there is a great demand for experts in the field, thus creating ample opportunities for individuals.
Monetary benefits : Everything depends on the monetary benefits related to a career. There are ample opportunities available in the market for those passionate about making a career. Individuals are free to work as per their choice whether they want to work from a home, office, or remotely. It does not require that you need to be present at the actual place at that time. Everything is digital, so you only require a few skills and the internet for a lucrative earning.
Creative approach : Another great benefit of choosing a digital marketing field as a career is creativity. Each day, digital marketers face new challenges that require a creative approach. When you join a professional course from a reputable academy, you get to learn from the experts and get a chance to bring out the creativity level. Those who have a knack for creativity will get a place to showcase their talent.
How to begin your Digital Marketing career?
Now, as you get familiar with the various skills required for a successful career in digital marketing, you must be thinking of starting your journey. Undoubtedly, starting your digital marketing career is no complex deal these days. All you need is to place your bid on the most profitable card. That means choosing a digital marketing course that offers complete SEO learning modules. Not only you get a chance to adjust to the working environment also get great networking opportunities. Building your digital marketing portfolio is an excellent step towards making a lucrative career. This will help you get ample opportunities in the future as your clients find it easy to know about you. Hope this guide helped you understand the step-by-step process of making a career in the industry.