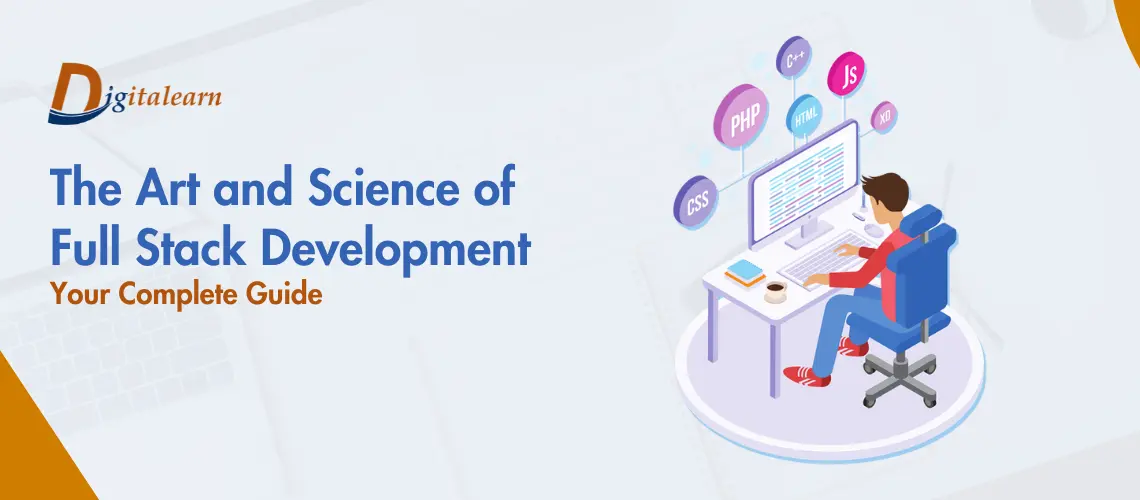 In today's technology industry, the competition is constantly evolving day by day, and having a full-stack developer is becoming important to stay competitive in Full Stack Development.
As software development continues to evolve at breakneck speed, businesses require skilled full-stack web developers who can keep up with the many moving pieces to stay ahead.
With full-stack web developers, they get the all-encompassing expertise and experience to build applications from scratch without relying on any specialist skills.
In this blog, we will talk about the meaning of full-stack development, its advantages, along with the purpose of full-stack web developer and their skills.
Full Stack Web Development- Meaning
Full-stack web development involves being proficient in programming both client and server software. The term full-stack means multiple layers present in the architecture of web programs. These layers are:
Presentation layer
Business logic layer
Data layer
By mastering both client and server applications, full-stack developers can handle all aspects of web development, from front-end design to back-end functionality.
Key Benefits of Full Stack Web Development
The rise of full-stack web development is no stranger. More and more businesses are depending on them for their development requirements. Here are some key benefits of full-stack web development:
Cost Reduction- Instead of hiring various web developers for different aspects of your project, you can depend on one skilled full-stack web developer to handle it all. A full-stack web development manages all the things, which automatically reduces the cost.
Fast Development Process- It is the key to establishing a strong reputation for your company, and full-stack web development is important to shine in this area. Full-stack web development has the skill to handle both front-end and back-end development, which ultimately speeds up the development process.
Hassle-free Updates- When it comes to updating your website, full-stack web development is the one-stop solution. With a deep knowledge of the ongoing digital changes, they can seamlessly handle the updating process, guaranteeing that your business stays ahead.
Ongoing Support and Maintenance- Full-stack web development focuses on product delivery from start to end. With its knowledge, it takes care of any problem that arises in the front-end, back-end, and database. It also provides ongoing maintenance for existing applications.
One-Stop Solution- The benefit of having full-stack development is that it possesses comprehensive knowledge of various technologies. It is skilled in front-end and back-end web development, database management, and debugging, which positively impacts the progress of your business.
Languages Use in Full Stack Web Development
Currently, the most demanding languages for full-stack developers are Node.js, Python, and C#, and PHP. Full-stack developers are multilingual. They need to know more than one language. The most general ones are Java, Ruby, Python, and PHP. There is a significant requirement for multilingual developers because the Internet is global. A brief description of some full-stack web development languages:
Python- It is the most demanding server-side programming language. Full-stack web developers use Python specifically when they are working on academic, research, and scientific-based applications. Python is easy to learn, provides quick execution, and simplifies mathematical calculations.
Ruby- It is a dynamic programming language known for presenting a programmer-friendly ally for web development. It is one of the best programming languages that full-stack web developer uses to build social platforms, SaaS, and online stores.
PHP- The complete form of PHP is Hypertext Preprocessor. It is a server-side scripting helpful language to full-stack web developers because a vast online community broadly supports it. Moreover, it is one of the excellent languages for developing web-based advertising and media apps.
Who are Full Stack Web Developers?
Full-stack developers have detailed knowledge of HTML, CSS, and various other programming languages. They are proficient in coding browser applications using technologies such as JavaScript, jQuery, Angular, or Vue and can also develop evolve applications using languages like PHP, ASP, Python, or NodeJS.
Skills of a Full Stack Web Developer
To become a full-stack developer, you are required to have proficient skills in front-end and back-end development and databases. A full-stack developer is a segment of the development team who understands all these three main elements of web development.
For front-end development- You need to know HTML, CSS, JavaScript, etc., and fundamental designing skills.
For Back-end development- You need to have a basic understanding of languages like Python, PHP, Ruby, and many more.
For Databases- You should have proficient skills in storage system servers like MySQL, Oracle, and many more.
End Term
The versatility of full-stack development makes it invaluable for businesses looking for a well-rounded web solution with impressive functionalities. If you want to learn a full stack development course, then connect with digitalearn.in.
Staff at digitalearn.in have experience in various technology stacks and can work with you to create a detailed solution that meets all your requirements. We also offer full stack web development language courses. If you want to know more, feel free to get in touch with us. Our expert team will be satisfied to answer any doubts you may have.