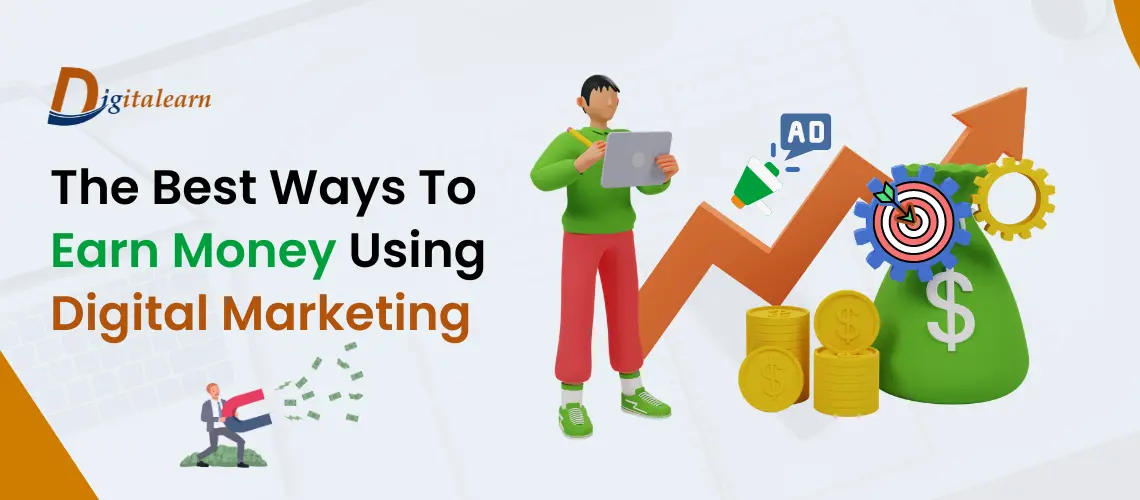 Gone are the days when earning money was limited only to traditional methods. But today, whether you have an online business, a salaried job, or selling freelance work, you can make money using digital marketing. All you need is the necessary skills, a strong connection, and a laptop.
What Is Digital Marketing?
In today's environment, Digital Technologies are ruling the Internet. Digital Marketing utilizes digital channels to sell products or services to reach customers. The various ways to earn money from digital marketing are PPC, content marketing, social media, SEO, and many more.
Content Marketing:
Content Marketing is one of the easiest ways to earn money, though you have little knowledge of digital marketing. It bridges the information between the consumer and the seller to advertise a specific product or service by creating and publishing free content online. Most popularly, content marketing use is for:
Query searching- People search for every issue on the Internet.
Research- Then, begin researching many articles and knowing their market price and value.
Comparison- Consumers prepare for different prices and quotations and decide on the suitable one.
Buying- It ends here when the desired product is purchased.
These are the steps to buy good content online for the product. It depends on how much you write and your expertise to earn money through digital marketing.
Blogging:
Blogging is nothing but your own opinion on any topic. Various websites offer to free hosts' views for the readability of millions of users. But if you're a creative writer, you must write an appealing blog for the product, which makes earning money with digital marketing.
Whatever blog you write must be in the current trend, and the ads you host keep on generating income on your blog. You can also attract genuine readers to your blog by advertising their product which will make you a commission if the readers use your blog as a link to purchase the product.
SEO (SEARCH ENGINE OPTIMIZATION):
SEO is highly in-demand these days. Search engine optimization refers to increasing your search visibility on Google. Every search engine gives the result based on a specific keyword or phrase, but the most ranked keyword appears at the top.
An SEO professional optimizes the website for maximum visibility with the most searched keyword. Search engine algorithms constantly change, so you need to learn how to rank and keep your content on the top.
Website Designing:
Web Designing is possessing technical and creative skills to build, design, and maintain a website. As a web designer, you must constantly update your website with the current trend.
You must design a website that is user-friendly, easy to navigate, and responsive so that the audience can easily access it. In this way, a person can learn how to develop a website to the client's needs by sitting in the comfort of their home and earning money.
Affiliate Marketing:
Affiliate marketing is one of the oldest types of digital marketing, also known as referral marketing. It refers to recommending a friend purchase a product; if/she uses the link to purchase a product, you earn a commission from the sale.
Similarly, your referral link earns a commission by selling their product/services when you tie up with a company. Many E-commerce companies are successful in doing affiliate marketing programs.
Social Media Marketing:
As the name suggests, it is through social media platforms like Facebook, Instagram, Twitter, and many more. You can also post social media marketing campaigns and earn money through your social media accounts.
The number of views it gets and the success rate from the campaigns will help you to earn good money with digital marketing.
Mobile Marketing:
Mobile marketing is a trending way to earn money with digital marketing. The different types are:
SMS marketing- This type of marketing is done by SMS, mainly for small-scale entrepreneurs.
Push notifications- A message that pops up on the screen that the user can see with a single tap.
In-game mobile marketing- While playing online games, you get a lot of ads on the mobile, urging you to download the app or game.
QR Codes- The code is scanned by the mobile, and the URL automatically opens for accessing the user's product.
Conclusion:
Above are some of the ways to earn money with digital marketing. There are some other tools also to generate money like.
Lead Generation
YouTube Marketing
Google Ads
E-mail Marketing
Digitalearn is one of the professional digital marketing academies in Lucknow to help you become a successful digital marketer. To learn more about our services, contact https://digitalearn.in/