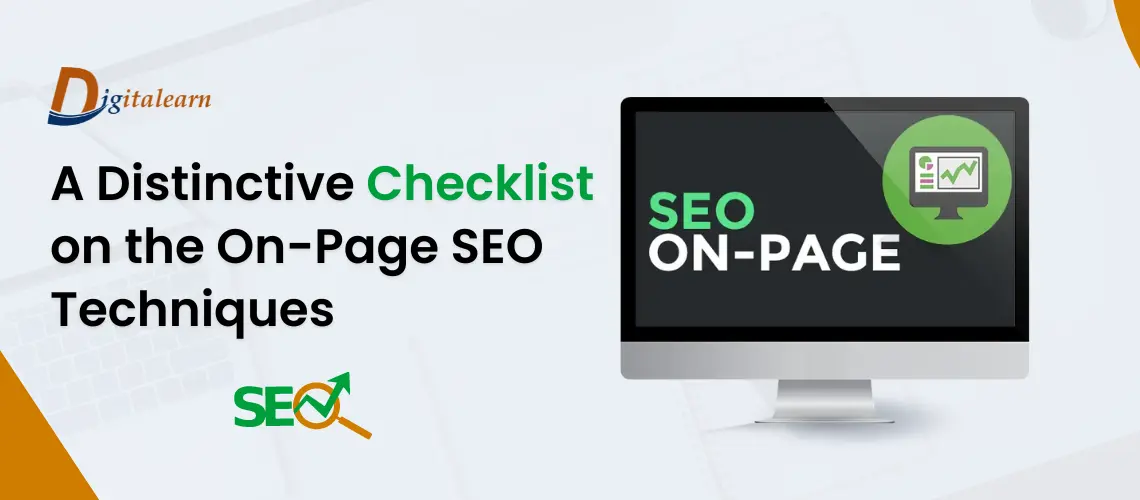 Do you know the essential thing required for gaining search visibility for your content? On-page SEO helps both users and search engines to understand and recognize your content. Here we have prepared a comprehensive On-Page SEO checklist to increase the search visibility and traffic to your content. You can also use this blog to improve the previously published content on your website. Let's have a detailed discussion on the list below:
"All these On-Page SEO tips will help you have an in-depth understanding of the various SEO aspects. For a better experience, you can join the best digital marketing academy in Lucknow to learn in a professional environment."
On-Page SEO checklist
Use Keyword in the slug : Search engines cannot read each and every article when the users search for something relevant. It requires a lot of symbols like keywords, backlinks, slug, etc., to identify the type of content. If you are a newbie, then slug refers to the URL of the page that helps search engines identify the purpose of the content. Adding your Keywords on your slug helps search engines easily understand the type of content to show more specific results. A keyword-rich URL helps in boosting organic traffic to your website.
Keep it short : Here we are talking about the URL of your website. Do you know that short URLs rank the best on search engines? That is why most high-ranking websites use short slugs on their websites. Try to make the slug as brief as possible.
Include Keyword in the title tag : Your title tag is the most crucial part of the on-page SEO method. Google pays particular emphasis on the title tag of your content. It will help a lot to the search engines like Google when you include your Keyword in your title tag.
Keyword in the introduction : Do you know that Google pays particular emphasis on the first 150 words of your content? Including keywords in the initial 150 words of your content will help in increasing the search visibility of your content.
Avoid keyword cannibalization : Do you know what keyword cannibalization is? The term refers to the use of the same or similar keywords on your website many times. This creates a problem for search engines to identify exactly which content you want to rank and ends up ranking neither. Make sure that you are using the primary keywords for the first time on your website only to avoid cannibalization.
To understand more about this concept, choose the best digital marketing academy in Lucknow and get access to a range of SEO courses.
Image Alt tags : Just like your content, your images also need to be visible to the search engines. Image Alt Tags is the perfect solution to this problem. For this, you need to save the image with a name that briefly describes the purpose. Now when you upload the picture to the content, add a description to it to introduce it.
Readability score : Do you know why most contents fail to rank on the search engines? Google focuses more on the convenience of its audience. If you cannot provide solutions to their problems, it will not rank your website. You need to upload an easy to ready content for your audience that an 8th- grader can also understand.
When you choose the best digital marketing institute in Lucknow, you will understand how these small things matter significantly for the success of your content.
External linking : Want to know how businesses attract millions of traffic to their site? External linking is the biggest reason behind this huge success. Make sure to link each content to a minimum of 6-8 high-ranking websites. This helps you gain relevance in the search engines that your website must be containing something worth for the audience.
Use of H1, H2, and H3 tags : For a perfectly written SEO-friendly blog, you need to mention H1, H2, or H3 tags. These heading tags tell search engines which part of the content is more critical and which is less. Always use an H1 tag on your title to describe that the content body is related to the title to your search engines. All the other tags help tell the search engine that all the subparts of the content are related to Keywords.
With the best digital marketing academy in Lucknow, you can learn about their importance and how to implement them organically.
Internal linking : Adding internal links to your content is among the top On-page techniques to rank your content on top. Internal linking helps search engines to identify the relevant website. When search engine crawlers visit your website, they move to your website's other essential parts using the internal links to find out that the website is of high authority.
Avoid keyword stuffing : Google hates websites that use keyword stuffing tricks to gain a high ranking. With the changing algorithms of Google, spammers have no way possible to fool audiences and the search engines to rank higher. You can use the synonyms of the primary keywords and other LSI keywords to avoid keyword stuffing. This will increase the SEO score of your content as it does not contain repetitive texts.
There are many ways to learn about keyword stuffing. One other way is to find the best digital marketing institute in Lucknow to get the proper training about the various SEO techniques.
Adding Meta Title & description : As explained earlier, search engines need hints to find out the type of content. Adding meta titles and descriptions will help the search engines to find out what the content is about. Since the search engines don't have time to read the entire content. They look for symbols and hints to find the most relevant content like keywords, meta titles, and descriptions. This will be a short introduction to the search engine about your content.
Include tags and categories : Adding relevant tags and categories will help in classifying the content for the search engines. Hashtags are an excellent way to gain higher traffic these days. Those who are active on social media must have an idea about the impact of hashtags. On the other hand, categories will help the search engines attract the right audience for the right content.
Final Thoughts : On-page SEO is a whole concept that you cannot master in one day. You can only learn through continuous practice and effort. With the proper guidance and training, you can make your website gain higher traffic. For this, the best digital marketing academy in Lucknow like DigitaLearn, can help you meet your expectations.