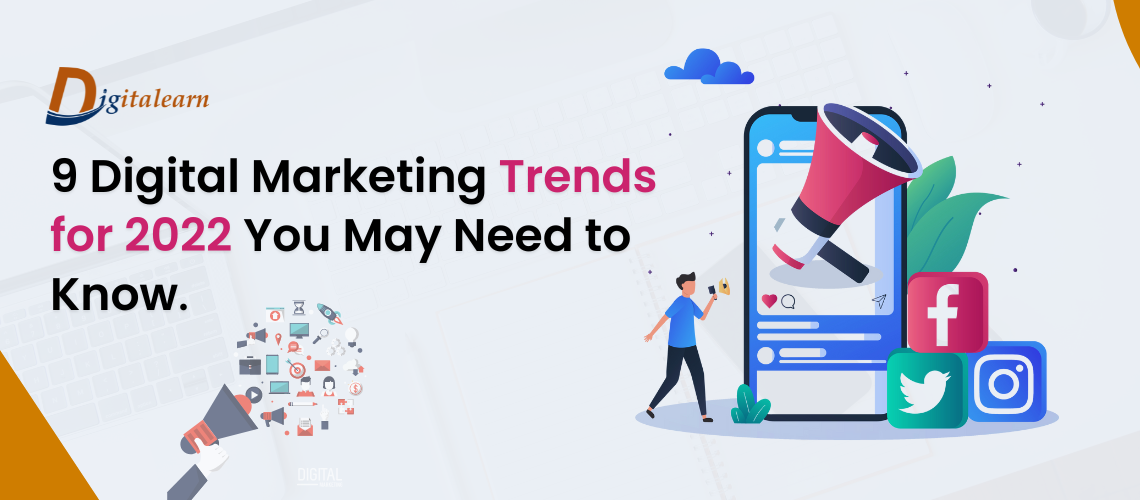 No one can predict how the digital marketing trends will impact businesses in 2022. The digital market has been seeing a massive transformation over the past few years. Achieving the highest ROI seems like a daunting task to many. However, businesses can achieve their desired goals with the latest trends and technology. But how would you know that you are going in the right direction? If you think of making a career in Digital marketing, you need to be aware of the changes going on in the industry. Here are the latest trends you need to focus on in the year 2022 to keep up with the ever-changing trends of the digital enterprise:
Utilize Social media
Social media has emerged as the most effective marketing tool for marketers. There is no better and effective way to understand your audience's behavior than social media. Your audience spends most of their time on social media, and you cannot ignore this amazing and free opportunity to improve your marketing game. The trend of using social media for your digital marketing campaign will only increase in 2022. Escalate your career in Digital Marketing using the basics of social media platforms.
Focus on local SEO
The most underutilized SEO tactic in the past few years was Local SEO. The brick-and-mortar stores suffered a lot during the lockdown, especially the small ones. The local SEO helped the small entrepreneurs increase the popularity of their websites. Focus on learning Google listing to improve the Local SEO of your website. There are several listing websites and online directories where businesses post about them. This helps users find out about your business easily when they look for the nearest options for their purchase.
Stock availability communication
Do you know the reason behind more bounce rates even after having a well-developed website? Most small businesses are not aware of their stock conditions that lead to the transfer of your leads to your competitors. There are many software available these days through which you can inform your audience about the availability of stock to save your leads from going to your competitors.
Optimize for voice search
Voice search is among the top latest trend in the market, which will only increase in the future. However, there is a remarkable difference between text search and voice search. Optimizing your content for the voice search is the best thing you can do for your website. If you are interested in making a flourishing career in digital marketing, there is no better option than joining DigitaLearn for the best learning experience. With their comprehensive training programs, you can learn to optimize your content for voice search.
Segmenting audience
Audience segmentation is the basic necessity for businesses due to increased competition. Nowadays, marketers need to come out with creative ideas to keep up with the changing behavior of their online audience. Audience segmentation will help you develop personalized communication with your audience by allocating them into separate email lists. You can quickly inform them about the latest deals and offers based on your website's behavior and preferences.
Interactive content
Do you know the impact of interactive content on your marketing strategies? We mean quizzes, events, polls, and competitions that encourage users to act and engage them with interactive content. Without engaging and interactive content, marketers can't get more impressions on their posts. Creating interactive content for your audience is the ultimate way of bringing more results.
Short Videos
Attracting an audience for longer has become the most challenging task for businesses. Due to the wide variety of options available, users don't easily visit again and stay longer. Due to this uncertain behavior of the audience, short videos are a lot in trend. Based on this trend, it is expected only to increase the demand for short videos for marketing purposes. Short videos help a lot in engaging the audience. Nowadays, no one has the time to watch long videos, and they want everything short and engaging. If you're going to make a career in digital marketing, it is essential to know how to create interesting short videos for your audience.
SEO friendly Content
Want to increase the website traffic and conversions rates? SEO-friendly content will help you get the right targeted traffic to improve the ranking of your website. Search engines keep changing their algorithms, and you need to be fully aware of these changes. Making a career in digital marketing will help you understand the right tricks and strategies required to optimize your content for search engines.
Optimize website design
Another popular trend to follow in 2022 is having a website design optimized for search engines. Nowadays, both search engines and users prefer user-friendly and easy-to-navigate websites. Since search engines focus on providing user experience and convenience, they have updated their algorithms to rank websites that are well-optimized for providing user experience.
Winding Up
No one knows how much the digital industry will change in 2022. Still, we are making assumptions based on the market's current trends. With the ongoing trends and preferences of the audience, it is expected to have a massive boom in the digital marketing sector. If you think of making a career in digital marketing, then there is no better time than now. Choose the best learning academy like DigitaLearn to get a great learning experience under professional guidance.