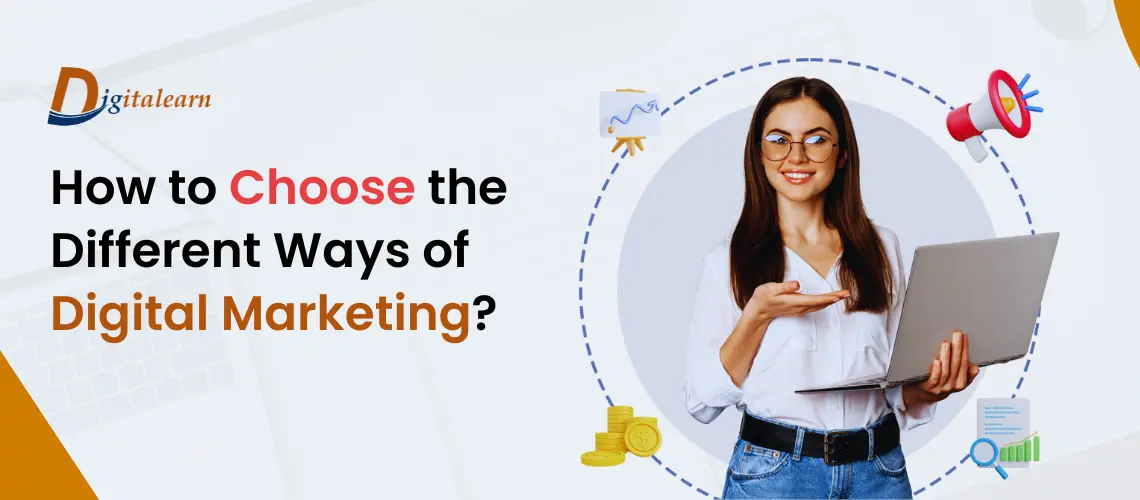 Want to get successful in your digital marketing efforts? Firstly, you must know the channel and tactics that are reachable to you.
What is digital marketing?
Digital Marketing includes all the electronic mediums to connect with audiences and customers online. Industries today are focusing on growing their business online, and therefore, there is no corner left where digitalization has left us untouched.
Professionals can give wings to gain expertise in digital marketing and learn about their efforts through courses and content. Today, companies are hiring candidates based on skills rather than their degrees, and Digital Marketing is an open platform to people from all backgrounds.
Some of the parts of digital marketing are:
Search engine optimization (SEO) : Website, blogs, and infographics are the channels that can benefit you from SEO.
Content marketing : On-Page and Off-Page blog posts, whitepapers, and online brochures are the channels that benefit you from Content Writing.
Email marketing : Email that includes follow-up, customer welcome, blog subscription, newsletter, etc.
Social media marketing : Social media accounts like Facebook, Twitter, LinkedIn, Instagram, and Pinterest are beneficial channels.
Pay-per-click (PPC) : The paid ads on Facebook, Instagram, promotional tweets, sponsor messages, and google ads are also essential.
Affiliate marketing : Affiliate links on YouTube, Video ads, and social media accounts are the channels that derive benefits.
Generally, business adopts Digital marketing tactics and strategies because it is quantifiable, result-driven, and faster than every other company, regardless of size.
Why are businesses adopting digital presence?
Be it small or large corporations. A digital presence is essential for every business. Several other reasons are:
It's more cost-effective than traditional marketing.

It builds brand reputation and trust.

It targets potential customers by showcasing online products and services.

It enhances revenue growth in the local or global market more efficiently.

Through analytics, you can grow your business performance quickly.
Recent digital marketing trends help marketers find better ways to attract audiences. Some of the tools include:
Artificial Intelligence
AI helps you find ways to power customer segmentation and push notifications, depending on your chosen goals.
Chatbots
You can have basic conversations anytime and talk to customer care executives when required through chatbots.
Omnichannel Marketing
It provides seamless communication across all channels. Generally, it is an upgrade from multichannel marketing.
Voice Search
As technology improves, voice search is available through various mobile devices.
Email and Marketing Automation
It increases coordination between the sales and marketing teams. Also, it helps to eliminate time and is cost-effective.
Top 10 ways to achieve success in your business digital marketing efforts
Be flexible and open to change.
In the present, where the world is embracing technological changes rapidly, it is a must for every business to adopt the changing tactics and strategies.
Set SMART objectives : Set your digital marketing plan which is specific, measurable, attainable, realistic, time-bound, and critically important. This way, you can be consistent in reaching your goal.
Execute perfectly : Once you plan to achieve SMART objectives, you need to execute them on time flawlessly to collect data and make changes to your customer feedback according to your changing requirements.
Exercise creativity throughout the process : From the beginning, be creative and innovative in your content to reach your target and potential audiences. Use omnichannel or integrated channels to connect.
Target audience with market segmentation
Market segmentation allows you to target a market with similar traits by knowing the behavioral pattern of a particular segment. Therefore, you can understand and reach out to the potential audience.
Diversify your channels, tactics, and strategies
No digital marketing channel is perfect. Try to diversify different channels, tactics, and strategies for achieving success. It will help you to target new audiences and generate revenue growth.
Integrate your sales and marketing
Integration of Sales and Marketing is a crucial aspect of digital marketing. Because, knowingly or unknowingly, they will work for a particular purpose.
Collect, measure, track, and analyze data
Today, data is essential to provide customers with expected service levels and keep them updated with competitors. Google Analytics provides you with these elements to measure success.
Connect to the audience
Connecting with the audiences is vital for online or offline businesses, making it easier to cater to the needs and demands of the market in advance.
Collect feedback and respond to it accordingly
Use customer feedback forms, surveys, and polls to interact with the audience. Once you know their thinking about which strategy is working and which is not, you can act accordingly.
Final Words
By incorporating different facets of digital marketing, as described above, you can have a robust digital presence and be the best solution to achieve business success.