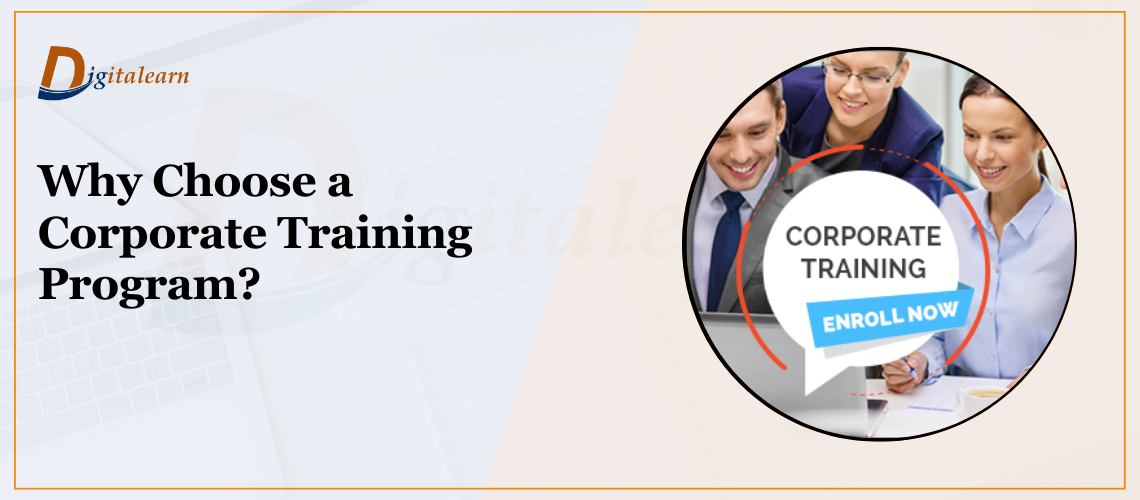 The corporate world is blooming at a rapid rate. It requires the right skills to bear the pressure of the corporate world. But how do the employees learn about the basics of the Corporate industry? That is why DigitaLearn is offering corporate training programs to train employees about the work culture in corporate companies. This is an efficient way of learning both personal and professional skills necessary to develop in a workplace. Know why you need to join these courses for skills development later in this article.
What does Corporate training mean?
Corporate training, in general words, refers to the process of making individuals aware of the ethics and etiquettes of working in a professional environment. The aim is to train the workforce to bring out the best of them by incorporating necessary skills. These days, this has been in demand as companies don't prefer candidates that cannot represent their companies to the outside world well.
What are the types of Corporate training?
There are different types of corporate training programs available are as follows:
Leadership skills training
Indulging in leadership and management development training programs will infuse a sense of confidence among the employees that they become ready for the managerial levels at the organization. This is the best method to retain the employees for longer in the company. In most cases, employees don't possess organizational skills naturally. There is always a need to bring out their talent. Choosing a skills development training program will help the employees learn about handling pressures, deadlines, and complex situations independently.
Ethics and Harassment training
Workplace ethics and harassment are the most offered courses at corporate companies. Since a large part of the population at the workplace faces harassment at some levels. Companies provide corporate training to make their employees ready for handling responsibilities and pressure together. They need to train their employees at all levels to have a sound work environment at the offices.
Communication skills training
As you already know that communication is key to success. It is the most sought-after skill in the corporate sector. When it comes to achieving predetermined goals and objectives, employees need strong communication skills. With the help of corporate training programs, employees can enhance their communication that increases both their productivity and efficiency.
General and crisis management training
Each company, whether large or small, needs to train its employees for all kinds of emergencies. There can be natural disasters and emergencies such as fire outbreaks, earthquakes, and many more. Companies will ensure that their employees are ready for all kinds of situations through skills development training.
Cybersecurity protocols training
Companies have sensitive information on their servers that are vulnerable to hackers and attackers. Any negligence of employees can make a significant impact on the safety of the data. A corporate training program in cybersecurity protocols helps the organization make the employees aware of the risks involved on the internet and how to tackle uncertain situations at the workplace.
Certain activities are interested in these training programs, such as setting strong passwords, introducing email phishing, and using robust identification methods to save the servers from all kinds of attacks.
Soft skills training
Soft skills are an essential trait in corporate sectors. It is believed that employees having these skills are much more productive than those who don't. It consists of developing the overall personality traits, emotional intelligence, attitude, communication skills, social skills, etc. Most companies offer this skills development training to have an efficient workforce.
Time management training
Time management training programs are focused on increasing the employee's productivity by developing a strategy to prioritize tasks according to the best possible manner. The employees are trained to multitask, manage projects, prioritize tasks based on deadlines by eliminating hindrances during their work.
Increases efficiency
One of the most significant benefits of choosing a corporate training program is that it increases the efficiency of the employees. The training process involves a strategic plan that removes interruptions and boosts the confidence and efficiency of employees.
Company reputation
Having a well-trained and organized workforce increases a company's brand image and reputation in front of the clients and the public. That is why most companies these days provide skills development training.
Boosts employee morale
A corporate training program makes the employees ready for the challenges during the work that helps boost their morale by solving all kinds of doubts and issues from their minds. This also increases job satisfaction among them.
Conclusion
In this competitive era, both employees and industries are looking for ways to enhance their productivity. A corporate training program helps both the workforce and companies to gain that during the job without wasting their time. Now both of them can achieve their goals in a more streamlined manner.