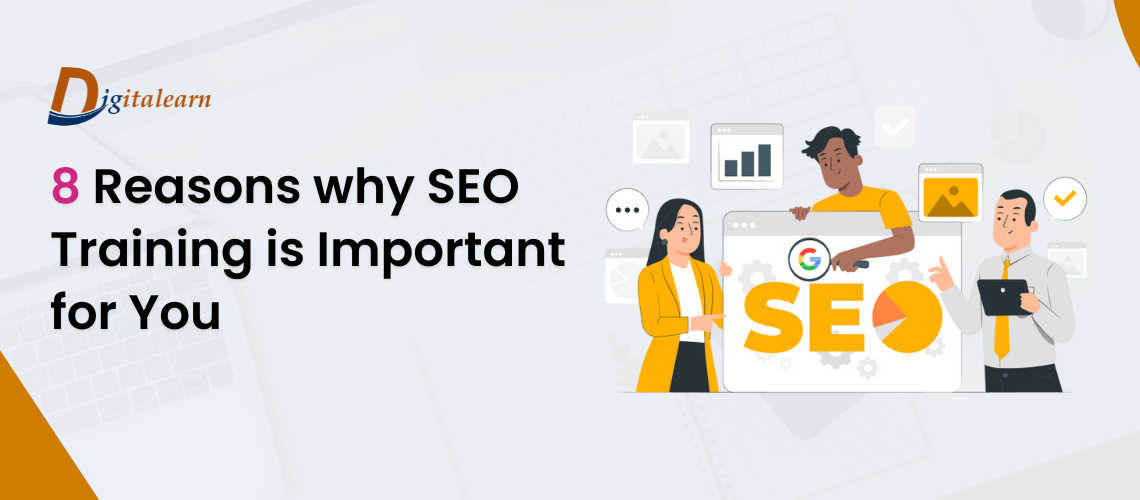 Search engine optimization (SEO) is the most sought-after career these days. Do you know why? Before we answer that, remember the last time you went to the market to purchase your daily essentials? Yes, this is the impact of digitalization on our lives. That is why business prioritizes digital presence more than physical presence these days. All this online presence revolves around only one thing, which is SEO. Learning SEO has never been this easier. It is choosing the best SEO training institute in Lucknow like DigitaLearn that makes all the difference. If you are still unsure of joining an SEO training program, then we have these 8 compelling reasons for you.
8 reasons you must choose SEO training
There are numerous reasons for learning search engine optimization. We are going to mention here a few of them for your understanding.
Targeted traffic
Unlike other marketing strategies, SEO helps businesses to attract targeted traffic to their side. Search engine optimization allows companies to identify their potential buyers so that when someone searches for the related products and services, their website appears on the search engine. This is one of the most effective ways of increasing ROI. Joining the best SEO training institute in Lucknow will help you understand how to turn your potential buyers into actual buyers.
Unpaid marketing medium
SEO is the most effective and unpaid medium of attracting potential customers to your website. Once you make a website, you don't need to incur additional costs to remain on the search engines. With organic SEO tactics, you can optimize your website for better rankings. But how would you learn this excellent skill? The only way to learn is through joining the best SEO training institute in Lucknow. You will learn about the various skills and tactics required to make websites appear on top of the search engines organically.
Competitiveness
The biggest reason why businesses look for search engine optimization is that their competitors are doing it. Have you ever analyzed how much of your competitors are already using SEO for their success? Whether you want to do your business online or become an expert SEO professional, SEO training is all you need. An SEO training program will make you ready for all the uncertainties of the search engines and infuse a professional approach towards complex situations.
User-friendly approach
Search engine optimization focuses on the optimization for search engines and focuses on enhancing user experience. Without a quick loading user-friendly website, search engines won't consider your website for indexing. If you are looking for methods to boost your career in the internet world, then there is no better option than joining the best SEO training institute in Lucknow. A professional SEO course will make you learn the skills and help you boost your career.
Increased conversions
Do you know why everyone is running after search engine optimization? Why everyone wants to rank on top of the SERPs? The reasons are endless. However, the primary reason behind this is the increased conversion rates. When your audience finds your website quickly for their needs, there are higher chances that they will turn into actual buyers. This is why businesses focus more on the optimization process rather than only customer services. There are several methods to learn SEO for a thriving career. However, the best SEO training institute in Lucknow can only make a difference.
Brand awareness
Brand awareness is a significant concern for businesses to gain better results. If your user searches for a particular product or service, then they recognize the top results only. Search engine optimization helps companies make their audience acknowledge their business by turning them into a brand. The most crucial step of becoming a brand is to make your audience recognize you. Learning SEO can help you achieve this without spending too much, unlike other marketing methods.
Budget-friendly
SEO is the reason why small businesses can survive in the market and become a brand. A lot of small businesses gain massive engagement on the internet quickly with increased conversions. They don't need to invest a lot of money on the advertisement purpose. Instead, they can easily optimize their website for better engagements and views. Joining the best SEO training institute in Lucknow is the only option to gain from this increasing demand for SEO professionals.
Round the clock promotion
SEO provides an entirely different approach, unlike other methods where customers engage with the advertisements for a specific limit. Here you will get round-the-clock promotion for your website, and your audience can connect anytime anywhere they want to your business. This is why there has been a drastic increase in the demand for SEO professionals. Here you will give 24/7 support to your audience with the right skills.
Conclusion
Now, as you read the article, you must have understood why you need to learn SEO for a flourishing career. There are several reasons to choose the best SEO training institute in Lucknow. However, we have listed some of the significant facts of SEO from a business's approach.