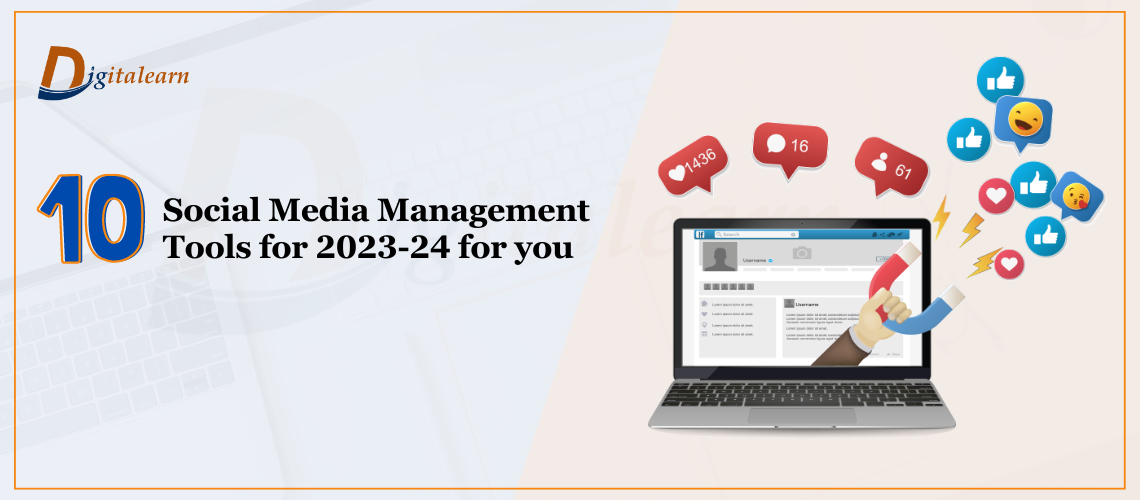 The last two years have brought a significant change in the online industry. The digital platforms witness a range of social media management tools to fulfill all the needs to cater to these demands effectively. Marketers or businesses now use a range of tools to make the promotion process easier and convenient. Businesses and customers have quickly and happily accepted the digital transformation, which could have taken several years. Now, if you are also in the queue to quickly become a brand, social media offers excellent opportunities. In the last few years, we have seen how social media made a significant impact on people's lives.
Marketers have found this fantastic platform to showcase their products and services to run their campaigns. That took almost all businesses to the social media platforms to make their presence felt to their online audience. From small-scale to large-scale companies, everyone is using this free platform to create brand awareness.
Let's us know about some of them in detail here:
1- Biteable
Social media is all about engaging content. You all are aware that visual content attracts an audience more than only text content. Biteable gives marketers or business owners an excellent chance to create engaging and high-quality content with free access to the various templates, transitions, animations, effects, footage, music, animated music, etc. This is one of the essential sought-after social media management tools.
Biteable offers the cheapest method and gives a user-friendly experience without even having to invest in the various heavy equipment for creating content.
2- CoSchedule
As the name suggests, this great tool is designed to schedule all your social media activities in one place. It is often considered a powerful calendar used by marketers to organize all the projects, including social media posts, content, events, mails, contests, etc. Like other social media management tools, the tool helps marketers fill the gap between their posts and maintain a continuous flow in their marketing campaigns.
3- Hoot Suit
Handling multiple social media accounts is not a nightmare now. With Hoot Suite at your side, you can instantly access all of your social media handles in one place. Among the various social media management tools, Hoot Suit offers a convenient experience for website owners or marketers to work instantly without interruptions. There are also many social media courses available at Hoot Suite to help marketers learn about the various changes in the industry.
4- Buzzsumo
Without proper research, there is no way possible to make your content viral. No one can create high-quality content without research. If you want to give a tough competition to your competitors, then you need to be well-versed about the various trends and need to research whether your strategies will work or not. With Buzzsumo, you can do all of it in a single place. Creators come across various difficulties while creating content. You can use Buzzsumo to produce engaging content by increasing the chances of making it a success. Here's is how much you benefit from it:
Get a list of the most shared content on social media on Buzzsumo.
Find how many influencers are sharing your content.
Get quick alerts on the various keywords, domains, brand name, link, and author name.
Track your competitor's behavior and analyze whether your content can beat theirs.
Find trending ideas on the tool to get ideas about what type of content you can share.
5- MeetEdger
If you are single-handedly managing the entire online business, then it is one of the most effective social media management tools one can handle. MeetEdger allows a single place to handle all your content in an automated manner. You can easily manage all your social media handles using your mobile to post and share content on various channels.
With this amazing tool, you can always keep an eye on your social media handles' traffic when you reshare your content. You can easily keep your audience engaged by resharing your favorite posts to mixing categories to maintain the interest of your audience.
6- Sendible
Sendible again is considered one of the most popular social media management tools, which can help in reducing the hassle of managing your repetitive tasks. With the help of the amazing features of this tool, you can easily manage all your clients in a synchronized way. Attracting new clients become even easier with one-touch customization of your dashboard. Customize your dashboard to attract new clients instantly with all your features arranged in an organized manner.
7- Canva
There is a huge need for graphics designing in growing your business online. But what will you do if you don't have the skills? Well, you need not worry about this because everything is possible quickly with Canva. Whether you need to post on Facebook, Linkedin, Instagram, Twitter, or need a banner for any purpose, Canva makes everything possible. With thousands of templates and designs on its store, it comes as one of the top social media management tools across people. Full features of Canva are available for free. That is why it is the cheapest solution for marketers and website owners.
8- IFTT – If This Then That
There is a long list of social media events, like when someone tags a picture to your profile. With IFTT, you can automate your responses to several social media events happening to your profiles. The tool will instantly notify the marketers along with the suggested answers. With this, you can increase both your productivity and efficiency of social media marketing.
9- Mention
Mention is an excellent tool for businesses to keep an eye on their competitors on social media. With this amazing social media monitoring tool, you can get real-time alerts whenever your competitors are mentioned on social media platforms. This will help you know every move of your competitors to plan a better strategy to stay ahead of them. Also, you can easily find the relevant influencers suitable for promoting your products or services.
10- Buffer
Buffer is excellent scheduling developed initially for Twitter. But now, it can be used for both Facebook, Instagram, LinkedIn, and Google+. All of your posting and tracking can be done within seconds on a single platform. You can post content instantly through Buffer and reply to all the comments from there.
With the help of the Bitly tool, you can easily add your account, and it can reduce the shared length of the URL. Sharing content was never this easier before Buffer. Of all the social media management tools, the Buffer extension allows you to add all your content and share in just one shot with no disruptions on the way.