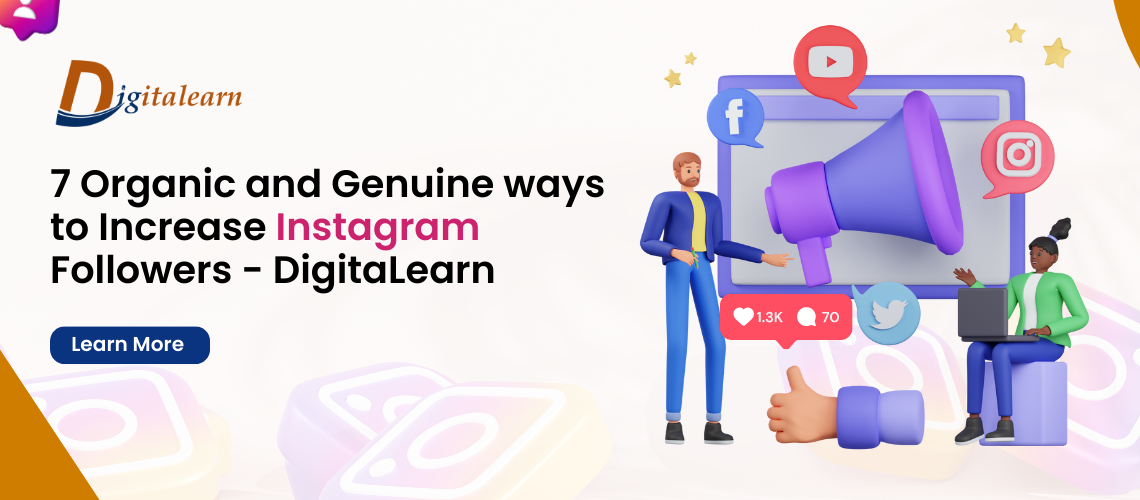 Instagram has become one of the trending social media platforms for brands and marketers today. However, building your Instagram presence and gaining followers isn't possible overnight. It is possible to achieve all your social media marketing goals with genuine and smart ways to get more leads and conversions.
It is time to up your Instagram game if you haven't been able to get a robust presence on the platform. But gone are the days of paid followers or bots to get the easy way for gaining short-term results. Below are the 7 sure-shot ways to gain genuine followers to improvise your Instagram strategy.
Let's Begin!!
Write an Attractive Bio
The first thing an individual sees on your profile is your Instagram bio. One of the most crucial moments for a brand to capture the audience's attention is through their bio. It must be written in a straightforward yet compelling manner that engages your audience. Simply writing about your business won't impact your audience as they want to connect with you.
There are not on Instagram merely for information, instead for entertainment and building relationships. That makes it even more important to write a captivating Bio that engagingly defines your business. You need to give your Instagram audience a reason to connect with your brand to stand out.
Optimize using keywords
No matter the platform, you need keywords to up your chances to be visible in the digital world. Incorporating keywords on your Instagram profile helps you quickly become visible to the audience. To increase your followers, you must be able to become visible on the searches. Keywords help you make your journey easier on Instagram to create higher visibility.
You can use innovative ways to add keywords with your brand name. Use keywords in your bio to increase the chances to appear in the searches or add them with your username. However, avoid keyword stuffing to get long-term and genuine results.
Hashtags are mandatory
Hashtags have an immense significance in the social media industry. Your entire Instagram visibility depends greatly on hashtags. If you think you can increase your post's reach and engagements without hashtags, we must say you are getting it all wrong. Instagram allows only to add up to 30 hashtags in a post, and however, it depends entirely on using quality hashtags rather than quantity.
It takes a lot of experimenting with hashtags to improve your post engagements. Use highly relevant hashtags to your images to get a meaningful, quality, and engaged audience on the platform. It helps your posts appear on people's newsfeeds, resulting in organically higher reach and engagements.
Schedule posts for the perfect timing
Your post's timing is crucial for gaining the proper engagements and visibility. If you don't want your posts lost in people's news feed, you need to find the perfect time when your audience is highly active. You need to experiment with posting on different timings first to see when they are engaging more.
Start scheduling your posts for the time when your users are more likely to engage. Even though the Instagram algorithms have changed to provide content based on the user's interest, it is still essential to post at the perfect time to get more visibility and engagement to your posts.
Add engaging and longer captions.
Increasing your followers on Instagram is not easy as it sounds. You don't only have to get high-quality posts but also the right strategy to increase the reach. Captions are not merely an introduction for your posts but also the most crucial step to grab your audience's attention. Writing long captions is one way to bring more reach and engagements to your audience.
However, it doesn't mean you can write anything to increase the length.
Your captions need to consist of everything that your audience wants to hear. Make sure to write all the important and compelling content on top as the user have to tap on the "more" option to read the whole caption. Try asking questions and using emojis to make it more engaging.
Pin Comments to add value to your post
Instagram offers excellent ways for brands to make more engagements and increase their reach. With the help of their "pin comments" feature, brands can easily pin their best comments on top to make higher engagements. If you think that some of your comments are getting more engagements than your entire post, you have the chance to pin them on top to improve the reach.
Also, you can use this feature as an extended space for your caption. Instagram allows only 2200 characters for the captions, and you can easily use this feature to write more extended captions. It is an excellent feature to improve communication with your audience and get more engagement.
Create content that your audience love re-sharing
Now audience loves sharing posts from brands with powerful illustrations and infographics. If it brings them value, they share it on their profile. Imagine how much exposure you can get when your audience shares your post on their profiles. That is why follow the trends and create content that your audience cannot resist sharing.
Think about the unique ways you can illustrate your ideas in a post that makes you stand apart from the other creators. When they share your posts on their profile, other people can easily find your account by clicking on the link, opening more doors to engagements and broader reach. For better ways to build your brands on Instagram, you can join social media training courses at DigitaLearn to genuinely improve followers and engagements.