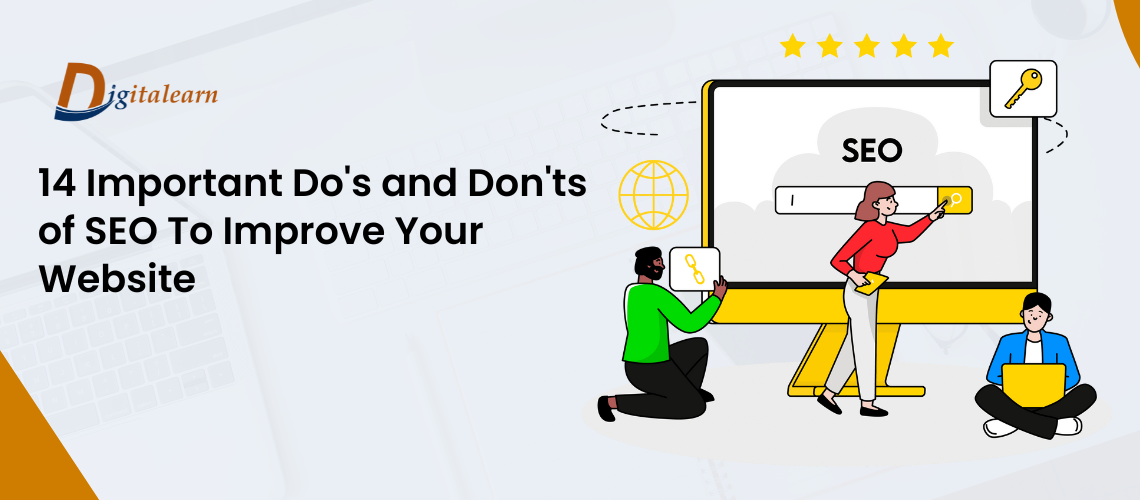 If you have a digital presence on any platform, you must probably know about SEO/Search Engine Optimization. SEO tips for more traffic help you to rank your website better on search engine result pages (SERPs), thus making it easier to find online. SEO strategy must be the formula for every small business with an online presence. One must never consider SEO easy, as minor mistakes can destroy your website ranking and traffic and even lead to penalties, hence, dropping from the search engine index. Thus, making it clear from the user's experience, the following are the do's and don'ts that need to be f when working online:
Setting Up Your Website
Do: Get Your Website Ready for SEO Blogging
For an effective search engine crawling experience, here are things to do while publishing your first blog:
Google indexes single web pages, not the entire website. A sitemap allows search engines to discover URLs on your websites, becoming easier to crawl. These web pages are designed mainly for visitors to provide a complete overview of a large website.
Make sure that the website is mobile-friendly from the start. Mobile responsive sites enable you to appear more frequently on mobile devices. No, matter the screen size, the page will also look good and function properly.
A descriptive URL must tell the user where it leads the website; if they click on it, the link text without description may be unclear or difficult to conduct where the website leads. Specifically, SEO reaches URLs that are generally short and keyword-rich.
Don't: Use Black Hat Strategies Like Cloaking
Websites can be deceiving to search engines, best known as cloaking. Cloaking refers to using a unique code on the website so that the Google bot looks explicitly at it and ranks that page. However, it violates google guidelines, and they can be banned and even blacklisted. 
Choosing a Focus Keyword for Your Blog
Do: Use Long Tail Keywords
Generally, the keyword can be several words or an entire sentence. Using a long keyword can connect you more with the best people for your company, products, etc. The long tail keyword gets less volume but is more likely to communicate with the bloggers and can make your followers.
Never assume keywords when you're going to start a blog. Always keep in your mind the entire phrase or keyword to write. Researching your blog post keyword can help you choose the focus keyword. Keyword tools can also be beneficial for better search results.
Using Keywords
Do: Include Keywords in Strategic Places
Never engage in Keyword Stuffing; it is vital to research and select the keyword for your blog post. Aim for a keyword density between 0.5-2.5 percent of blog posts, meaning if your blog post is 1000 words, the keyword must appear up to 5 to 25 times.
Your keyword must include the following:
Meta title

Meta description

URL

Section headers

Alt text of all images
Placing your keyword in these strategic locations will make your webpage rank higher.
Don't: Overuse Keywords
Overuse of keywords means keyword stuffing. Before Google became wiser, there was a practice of using many keywords on a page to rank higher on the website. But today, Google has strictly updated its algorithm rules to provide a better user experience.
 Content
 Do: Provide High-Quality Content
SEO helps users provide the best content with the best pages in the search results. It includes pages with their best match fit searches, queries, etc. The blogger must write quality content according to visitors' needs so that they can rank at the first-page position.
Don't: Copy from Other Websites
Quality content is best when it is original. Hence, Google's quality guidelines restrict copyright content, and they may take severe steps against offenders if they find scrapped content. Make sure the word is your own, and the spin you take is original.
Do: Use Links Wisely
Internal linking is essential when you're working for third-party blogs. Linking your third-party websites with official sites and having a high domain ranking are trusted/respected. Always choose the correct anchor text because they are the words linked to the URL.
Don't: Link Too Often
Lots of unnatural or external linking may lead to spamming as Google is very conscious of linking sites, which may manually downgrade your website ranking. Just be sure to follow the guidelines that SEO strategies suggest. No more than 150 links per page.
SEO must be your strategy plan from time to time when you start to the end of publishing your website. The following tips will ensure maximum exposure to your small business blogs.