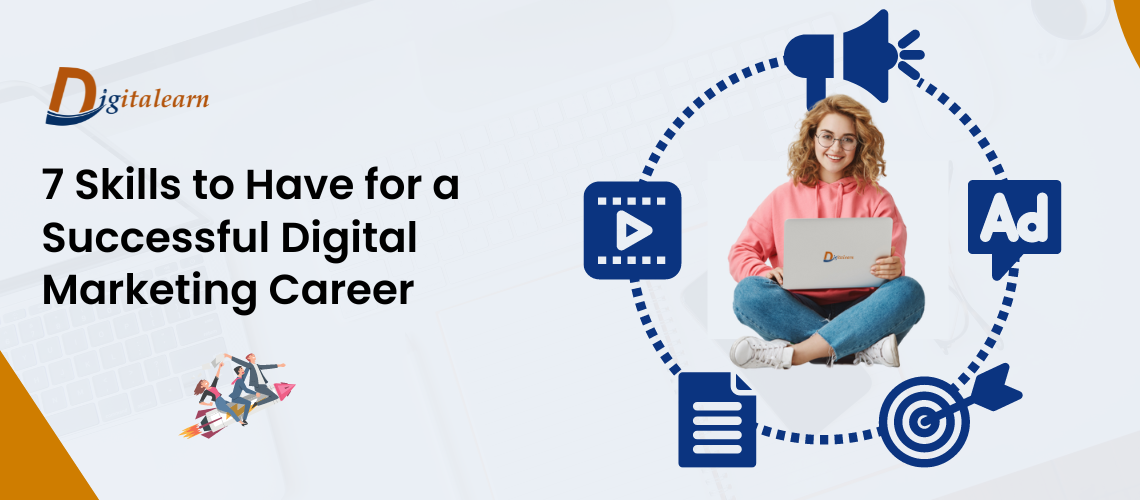 Do you think a digital marketer ever stops learning? Digital marketing career is filled with a significant number of challenges that need the right strategies and knowledge to keep away. To be an expert, you must keep learning about the changing trends. But how do you keep up with these changing trends of the digital industry and climb the corporate ladder? This guide will help you understand what skills you need to excel in your digital marketing career. Check out these 7 skills necessary for your successful digital marketing career:
Search Engine Optimization
Whenever we talk about Digital Marketing, the first skill that comes to mind is SEO. Search engine optimization holds the top portion of the digital industry. So, if you are going to join the digital game, you must be well-versed in the basic SEO concepts. Without proper knowledge and practice about the same, you will not be able to make your way up to the top rankings on the search engines.
Content Marketing is Core
Be it any part of the digital marketing industry, Content always stays at the core. In order to stay ahead of your competitors in the industry, you need to have a strong content marketing strategy. For this, you must be highly active across the various digital platforms and understand the strategies of your competitors to build a unique and engaging content marketing strategy for your audience.
By content marketing, we don't only mean blogs and articles. It includes all the Content that helps gain the audience's attention, such as video content, web content, social Content, email, blogs, e-books, etc. In short, you need to master the art of content marketing to compel your audience in every way possible.
Video Marketing
As already stated, the digital industry trends change rapidly, and you need to be adaptive enough to keep up with these changes. Video marketing is one such trend that has changed the preferences of today's audience. Do you think there is even a single person left on the planet who starts their day without dancing on the Instagram reels and TikTok videos? Brands worldwide have understood their audience and started using these videos as a strong weapon for gaining their audience's attention. Video marketing offers the business to give their audience a personalized touch as they are more likely to engage with them and understand their preferences.
Master Social Media
Another vital tool digital marketers have with themselves is the wide range of social media platforms. Nowadays, it is nearly impossible for a business to survive online and become a brand without using the power of social media. Even the biggest brands focus primarily on social media platforms to gain their audience's attention and connect with them in a personalized manner.
Nowadays, each social media platform has its algorithm to help businesses understand the behaviors of their audience using the insights. Many paid and free tools are available these days to help companies keep an eye on their audience and build innovative strategies to be ahead of their competitors.
Basic Graphic Designing Skills
No business or website owner can become a brand without emphasis on graphics. Just like videos and Content, graphics also play a significant role in the success of any campaign. So, if you are planning to enter the digital industry, you cannot run away from graphics. An excellent digital marketer must understand graphics design to easily present their ideas using social media posts and online banners. You must know several tools like Adobe Photoshop, Canva, Adobe Illustrator, etc., to make a successful career in the industry.
WordPress Knowledge
Another added skill for a digital marketer is having sufficient knowledge about WordPress. Nowadays, even the top brands have their websites on WordPress, which has become an excellent skill to get yourself placed in the leading organizations. By this, we don't mean that you need to master WordPress completely, but you must be able to make the basic customizations and have sufficient knowledge of the various plugins. This doesn't only help build your career, but you can also launch your website in the future.
Google Ads
Learning Google Ads will open more doors for a rewarding career among the many skills. As the competition rate is higher on the internet, businesses go for a slightly easier path: Google AdWords. Companies use PPC or Pay per click ads to get quick conversions for the products or services. Under this, businesses get paid every time a user clicks on an advertisement. If you have the skills to effectively create, manage and track the entire Google Ads campaign, you will be able to make a remarkable impression on the recruiters. And for this, you must have a knack for making decisions based on technical and strategic aspects.
Boost Your Career with a Professional Certification
So, we have listed the top skills a digital marketer must own to make a successful career in the industry. But, a single person can't learn each of them independently and quickly. Gaining a professional certification from a well-recognized institute like DigitaLearn helps you learn everything from social to PPC ads that can get you places in the industry.