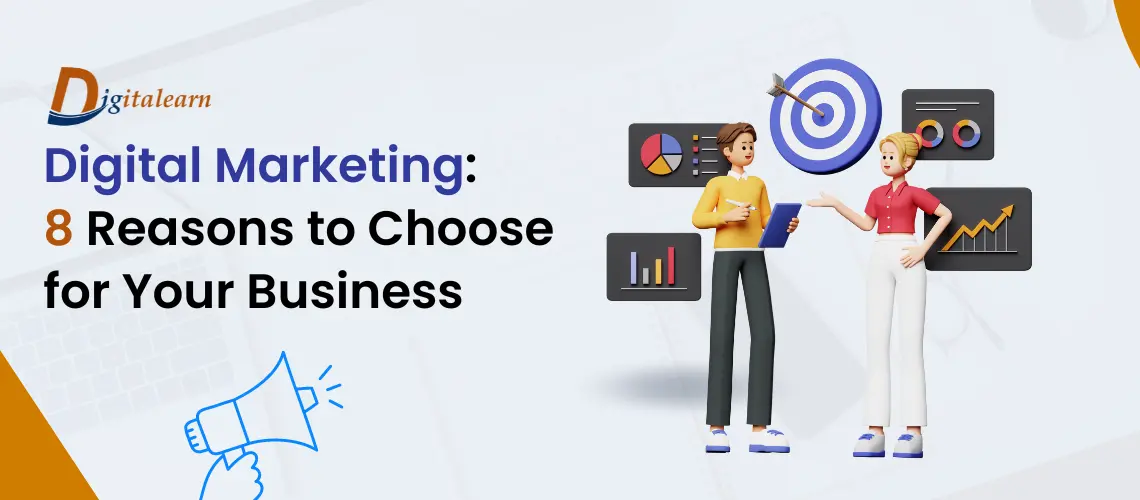 Digital Marketing is a way to reach a massive amount of audience available on the internet. It includes everything that turns your online business into a brand, including content marketing, SEO, SMO, email marketing, SMM, web design, PPC, and more. In this blog, we will cover the 8 reasons you need digital marketing and the ways they improve your business. Here we go:
Reach Customers Online
Do you know why there has been a massive spike in demand for digital marketing in the past few years? Your potential audience spends a large part of their time on the various digital platforms, and it is a great way to reach them. Here marketers and businesses both can easily reach their online audience as there are no geographical bindings. One can easily target the vast audience present in different parts of the world.
Your Competitors Are Doing the Same
Another great reason you need digital marketing is to beat your competitors. No business can run longer without doing competitor analysis. When you analyze your business competitors, you will find that your competitors are already doing it. If you want to be a step ahead of them, you must jump into the digital marketing game. Like other businesses, you must also start taking advantage of the industry.
They must have optimized their website for search engines, started using PPC ads, grabbed social media attention, and many more. Now you need to come up with an effective strategy to beat them up in the digital game. You are already making a big mistake by neglecting the digital presence of your business, and it is best to start investing your time and efforts in digital marketing.
Stand Against Bigger Brands
One of the biggest reasons why you must invest in digital marketing is the chance to stand against big brands. The online market is dominated by big brands like Amazon, Flipkart, Blinkit, etc., and you have to find something unique to stand out. When you learn digital marketing and apply the best strategies, you can easily compete with them and provide an option to the audience to choose you instead of the bigger brands. So we can say digital marketing offers a tremendous advantage for businesses to compete with more prominent brands dominating the internet.
Segment Audience
When you choose digital marketing, you get significant advantages in segmenting the potential audiences and building an effective marketing strategy to improve conversion rates. Targeting your potential audience is not easily possible for brick-and-mortar businesses. When you opt for digital marketing, you can easily identify your potential audience using the various tools available on the internet and segment them according to their age, tastes, preferences, and gender.
Monitor Real-Time Results
Digital marketing allows you to track real-time metrics so you can learn better about user behavior. Unlike physical marketing, you can easily track live data of the entire digital marketing strategy. As you spend your time, money, and energy on a digital marketing campaign, you need to learn how your campaign works.
With the several tools available on the internet, you can easily find how well your campaign is going. There are several metrics like user behavior, retention, CTR, conversion rate, engagement, etc., to help you learn about the various developments of the ongoing campaign. This allows you to easily track the deviation and find solutions for the poor performance of the campaign.
Better ROI
When it comes to Return on Investment, there is no better option than digital marketing. With the help of effective online marketing strategies, you can easily get better results. Apart from the other marketing methods, you don't have to spend too much on digital marketing methods, as organic methods don't require much investment. Also, the costs are much cheaper than the other marketing methods. Here you can easily reach an international audience without having to be there physically. This increases your ROI as you can gain more without spending much.
Easy Expansion
Do you want to expand your business scale worldwide? Digital marketing allows you to reach an international audience easily without having to be present there physically. As there are no geographical boundaries, you can easily expand your business abroad at lesser costs. There are many ways you can expand your business, but with digital marketing, the process becomes easier.
Affordable Solutions
The last and the most important thing people consider is costs. Businesses, especially the small ones, look for the most affordable solutions for their marketing purposes. When you look for the most affordable options, digital marketing almost comes on top. All the organic processes, such as SEO, are free of cost. You don't have to make many investments in online marketing methods and easily reach a wider audience. With DigitaLearn, you can easily learn the best and the most effective ways to boost your business. You can read the blogs and join the courses to get knowledge about the industry.