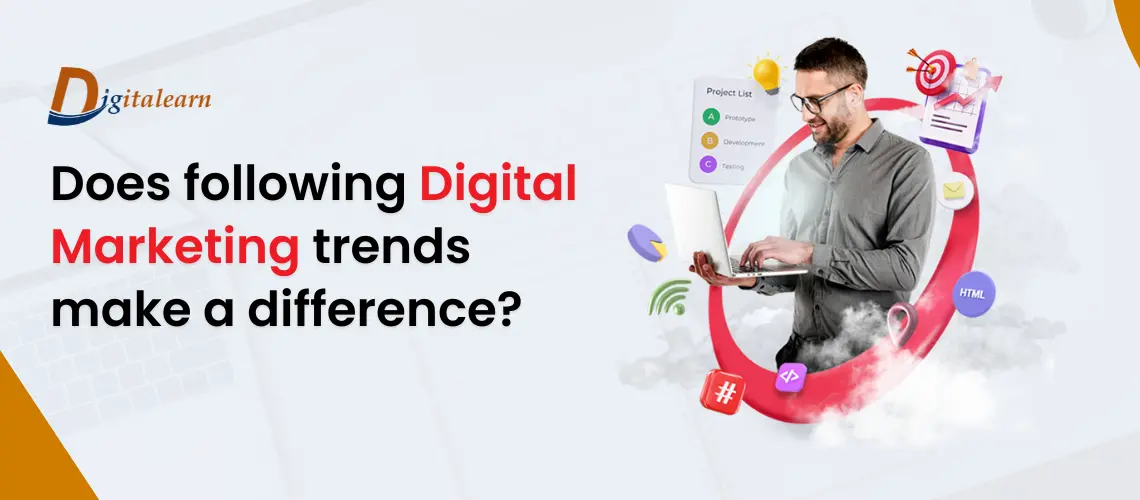 Have you taken your business online yet? If not, then it's high time you must. If yes, are you aware of the latest trends? No matter how much effort you put into your digital marketing strategy, you won't succeed unless you go with the trend. If you are thriving for better results, you must have an innovative approach. By innovation, we mean something unique that your audience cannot resist buying it.
The digital world is constantly growing. There are no geographical boundaries for customers to access your products or services. With the right marketing strategy, you can achieve great success in the field. But how will you make a powerful strategy? With the help of the Best Digital Marketing Training in Lucknow, you can learn about the latest trends we are going to share here:
Content Matters
Google focuses on audience-centric websites more than others. Their overall goal is to provide the most appropriate solution to their audience. They keep on changing their algorithms to rank websites to provide better results to their audience. Based on the new algorithms, Google focuses more on content than the other aspects of the website. Search engines are all about solutions. If your website cannot answer the user's questions, Google will not rank your website.
Nowadays, many companies try to use grey hat SEO techniques like unnecessary keyword stuffing and plagiarizing content to make search engines rank their website. However, Google can easily verify genuine and stuffed content now. As soon as Google finds out, the game is over. Enrolling in digital marketing training in Lucknow can help you learn them quickly.
Personalized Emails Works
When you attract wide traffic to your website, you need to nurture them well. Apart from audience retention, retargeting them is a big responsibility for businesses. Email marketing works pretty well to achieve that goal. Here you can send personalized emails to your leads, updating them about your products and services. This helps you in converting your potential audience to actual buyers.
Email marketing can effectively bring back your leads to your site resulting in more conversions. Suppose you run a daily blog. Now you can update your customers about your latest blog by attaching a link along with attractive email body content. This helps them know quickly about your new blogs by increasing traffic to the website. If you want to learn practical digital marketing skills, DigitaLearn provides an excellent opportunity to learn digital marketing training in Lucknow.
Post Interactive Videos
Content in any form has a high capacity of engaging customers to a great extent. Posting interactive videos is an excellent way of attracting more increased traffic to your website. Since videos can attract and engage better, it is ideal to up your digital marketing game. Don't know how to do it? Joining a digital marketing training in Lucknow will answer this question effectively.
With the help of the proper training, you will be able to create interactive and engaging content that not only increases traffic to your site but makes you an expert in the field. Not only create videos, but you will also know the most effective ways to keep your audience engaged.
Command on Social Media Platforms
Do you know the biggest strength of businesses these days on the internet? It is the power of social media that even small businesses become a brand in no time. But how do they do it so efficiently? A digital marketing training in Lucknow will make everything clear for you. A large number of your audience, especially millennials, are present on social media platforms.
Suppose your company offers products or services for the younger generation. Then social media can be an effective tool to create awareness.
With the help of live events, quizzes, interactive videos, and posts, you can keep your audience engaged and entertained, leading to better conversions and brand awareness.
Your Audience Loves Chatbots.
Artificial intelligence (AI) is everyone's favorite. If we talk about the latest digital marketing trends, then using chatbots will be an excellent option. Now the audience looks for convenience more than any other thing. Chatbots give the customers a comfort to interact like humans. It is observed that humans prefer chatbots over calling with the customer care executive.
The significant benefits of having chatbots on your website are 24×7 services, instant replies, and zero investment. With the help of the digital marketing training in Lucknow, you will learn about all of them in detail.
Wrapping Up
here is only a little introduction to the various trends of the digital marketing industry. As you can see the latest trends in Digital marketing, you must have observed that digital marketing strategy is essential for success. For this, you require proper knowledge and practice. A digital marketing training in Lucknow is the ultimate solution for all your problems associated with learning the latest trends in the industry. With the help of the proper training and guidance, you can quickly achieve your marketing goals by keeping your audience happy and engaged. Not only this, you can also give your career a boost and lead to higher-paying jobs. Get yourself enrolled quickly to have a better grip on the latest concepts.