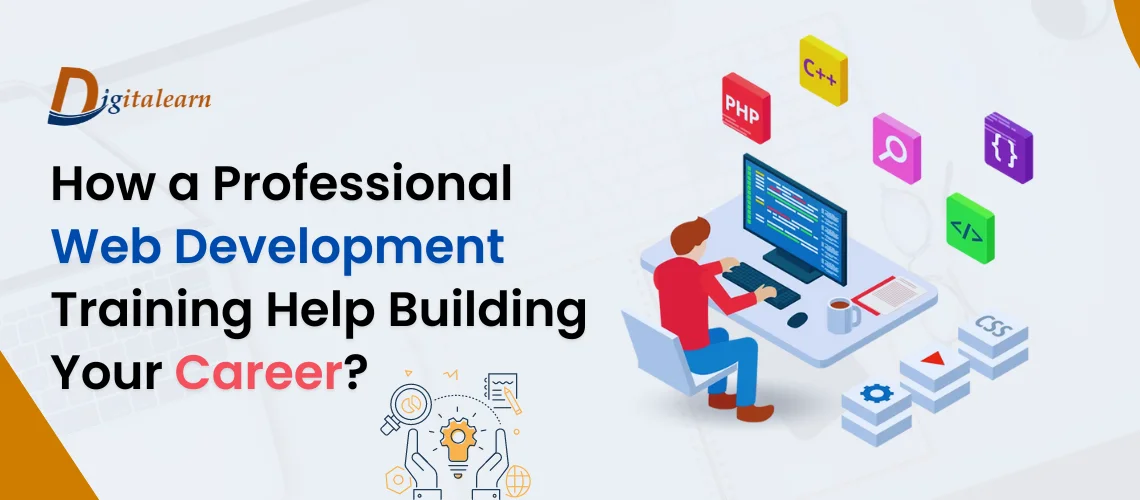 The internet has become a highly competitive place, and you need to be well-versed in the complexities before entering the industry. Many people think about starting their careers in the development industry but don't have the proper guidance. It is impossible to become a professional web developer without adequate training. If you think you can learn everything yourself, you might be wrong.
We all know how complex coding is and the number of efforts to master it. So, if you want to make a career in website development, you must understand the reasons first to choose a professional training program. Have a look at them:
Industry Expertise
Professional training in web development allows you to get ample knowledge about the industry to help you get the right experience. They hire industry experts for their training programs who have sufficient knowledge working on different website types, sizes, and scales. This helps the trainees get the proper training from experts who have already done multiple well-known projects. If you are serious about securing a lucrative career in the web development industry, you need to get some professional help to lead you the right way on the journey. If you decide to learn independently, you may have to face many difficulties and a lack of opportunities. Thus, joining a well-recognized institute can help yield good results.
Adding value to your skills
You may think that you have ample knowledge about the coding industry and can become an expert with some experience. But do you think you can become an expert without a professional certificate? A professional training program in web development allows you to add value to your skills to get better career opportunities. It will enable you to explore the industry better and learn about the new concepts and trends.
Competitive Edge
It isn't like you can't learn web development by yourself. But about the extent of success, you get at a limited duration. Everyone can't learn on their own, and that is why they prefer a training program to learn skills they require to make a career in the field. With such a great extent of competition in the industry, you need to be competitive enough to tackle the hurdles during the journey. When you join a professional institute, you'll know how to supersede your competitors using innovative ideas.
Boost Creativity
When you join a professional academy, they allow you to work on real-time projects based on different niches and types. One of the significant benefits you get while working on various projects is boosting your creativity. When you get a chance to practice on them, you need to brainstorm and find new ways to convince the client, expanding your creativity level. Thus, we can say web development training can help bring out the creative ideas inside you.
Pushes Productivity Level
We all know how much companies these days focus on the productivity level of employees. So, if you are planning to make a career in the website development industry, getting a professional certification is an excellent option. When you learn in a professional environment, you'll learn the various ways to boost your productivity level. As you gain expertise, you'll know how to improve mobile responsiveness, user-friendliness, accessibility factors, etc.
Problem Solving Attitude
Do you know why most companies prefer certified web developers for their companies? That is because they don't have to spend their time training their staff about the work. Instead, they can use this time to focus on their business growth and find more opportunities. Another great advantage is developing a problem-solving attitude to face tough challenges efficiently. You may encounter significant challenges during your web development journey, and it requires a problem-solving mindset to tackle each challenge smoothly and smartly.
However, it isn't possible to learn the skills independently without any guidance. Since you don't have any guidance to show you the right path, it becomes difficult to choose the right solution for the hindrances along the way.
Practice makes the difference
You must have heard how much practice impacts your skills. But it is not possible to practice without having an actual project. The web development industry is changing rapidly, and you need to stay informed to tackle these changes. With the help of a digital marketing institute, you can quickly have the chance to practice live projects to enhance your learning experience. This allows you to encounter challenges during the development process and the guidance to tackle these solutions.
High-quality Results
There are many ways professional assistance may help you in your web development career. Whether you are planning to start a digital business for yourself or want to make a career, you need expert guidance. Without the proper guidance and practice, you cannot yield the results you wish. If you want high-quality results, you need to gain professional certification from a reputed institute like DigitaLearn to help you get the desired results.
Now you may understand why so many people emphasize joining a professional institute rather than learning independently. So, we can say it is the right to find yourself the suitable training program to have a lucrative career ahead.