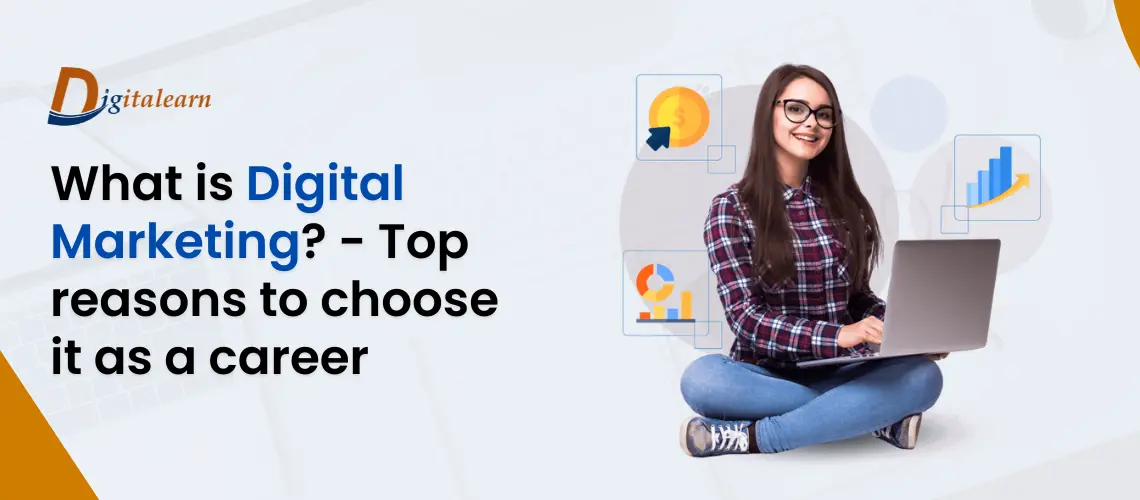 Deciding on the right career path is an essential step towards your future. Since the industry is changing rapidly, one needs to go with the trend. Digital Marketing is a whole new concept that has gained immense popularity in recent years. As per the predictions, it will be one of the most flourishing industries in the upcoming years.
What is Digital Marketing?
Digital marketing, commonly known as online marketing, is marketing your business to the audience through online mediums. Online platforms are the most excellent mediums to reach your potential audience. Since people spend a significant amount of time on the internet, it is ideal for marketers to target their audience.
Social media platforms, search engines, emails, multimedia text messages, etc., are the various mediums for which marketers plan their marketing strategies. Compared to the traditional marketing method such as billboards, newspapers, and TV, the marketing campaigns run by digital marketers are data-driven. All the marketing mediums provide statistics about the marketing campaigns run by the marketers in the online marketing industry.
Types of Digital Marketing.
The field of online marketing is vast. One can have a lucrative career in the industry. Here are the types of online marketing that appear as a dominant trend in recent years:
Search Engine Optimization (SEO)
Search engine optimization (SEO) refers to the concept of improving the quantity and quality of organic traffic to your website. Have you ever wondered how an individual website manages to appear on top of the web search results? All this is possible because of SEO. Experts use multiple tools and strategies to bring the websites to the top of the web page results. There is a massive requirement for SEO experts in the industry.
Social Media Marketing (SMM)
Social Media Marketing or SMM typically refers to the concept of targeting the audience on social media platforms. Facebook, Twitter, Instagram, Pinterest, and YouTube are the top social media platforms for marketers. In the present time, people spend a considerable amount of time on social media platforms. That is why it has become a particular field in Digital Marketing.
Email Marketing : Email marketing is among the most effective mediums to target your potential audience. Since a large number of audiences have smartphones right now, each of them has an email ID. Email marketers make strategies to target their potential customers by giving them insightful data to market their product or service.
Content Marketing : Content Marketing is a method of attracting organic traffic to your website to promote your product or service. Marketers require highly rankable content to attract the audience.
Pay-per-click Marketing : Pay-per-click marketing is posting ads on web search engines and paying only when someone clicks on them. Businesses adopt Pay-per-Marketing to bring their websites to the top of the search engine results.
Affiliate Marketing.
Affiliate marketing is a method of earning while promoting other's promoting. Affiliate marketers promote the product and services of others. The affiliate programs will pay you a commission whenever someone purchases by clicking from the link given on your content.
Why choose digital marketing as a profession?
Highly-Demanded : Digital marketing is in a lot of demand at present. The digital industry plays a significant impact on other sectors due to its versatile nature. One can have a lucrative career in the field with an opportunity to explore various parts of the corporate world.
Earnings : In terms of earnings, the online marketing industry is paying well. As the demand for skilled professionals is very high, it is an excellent opportunity for those with skills and expertise in the field. The companies are ready to pay well if you have the relevant skills.
Diverse Industry : The digital industry is going nowhere in the future. Instead, it will only grow in the upcoming years. One can have tremendous opportunities that are beyond your imagination. Google is changing its algorithms every day to rank a website. That makes the industry more challenging and diverse as new things are launching every day.
Something new every day : The best part of the Digital Marketing industry is you will never feel bored. Every day, you have to work with new clients on different projects. It makes work-life even more interesting as you don't have to do the same thing daily.
Learn as per your convenience : Unlike other professions, you don't have to earn a degree or join a professional institute to learn. You can learn things at your convenience. You can start by taking online courses, working as a freelancer, or gaining internet knowledge. There is an enormous amount of data available on the internet to learn about the industry.