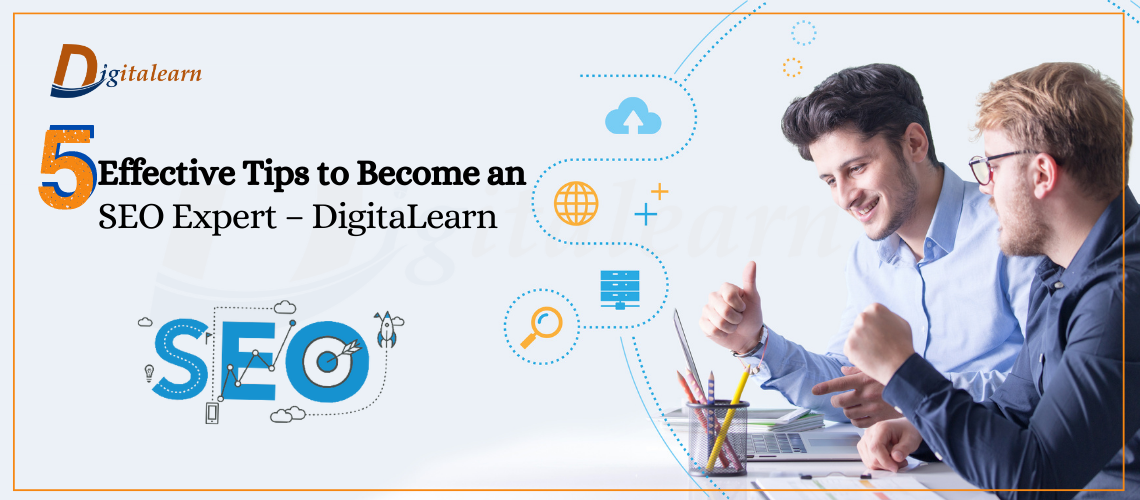 So, you have made up your mind to become an SEO expert, right? You must have visited this blog because you either want to become an expert or want to want to decide your career path. The search engine optimization industry holds excellent opportunities for today's generation. Due to the widespread transformation of traditional businesses into online ones, the demand has increased massively.
Each business is running towards making a notable impact on its audience by using powerful SEO strategies. If you feel the SEO industry is right for you, you have landed at the right place. Here are the top 5 tips you can follow to become an expert in the SEO industry:
#1 Learning SEO Fundamentals will be the First Step
As a rule of thumb, first, you must understand the fundamental of anything you are planning to adopt as a career. If you wish to make a career in SEO, you must first learn about the basic concepts of the industry. This will help you get the basic knowledge of the industry to get familiar with the industry's changes in advance. Learning the basics will help you break down your SEO strategy into different parts.
Now you can identify what type of content your users expect and how you can provide them with the perfect content. When you learn the basics, you will learn about search engines and how it works. Also, the tools and techniques that help you measure your SEO results for the website. Learning the basics will help you get accustomed to the industry's changing trends so you can use the tools effectively. This way, you can quickly learn new ways to become an expert in the industry to stand apart from your competitors.
#2 Experiment Building Your Own Website
Build your website if you want to know the best technique to become an SEO Expert. Having your website is an excellent method to improve your skills, and it is not possible to get a real-time project in the beginning. So, if you want to improve your SEO skills, the best you can do is use your website for practice. Here you don't have to fear getting others' websites in trouble while practicing and also get your place where you can experience as you wish.
Knowing the right way to use the SEO tools and the fundamentals you study is always a big question for freshers. You can better expand your knowledge by a trial and error approach when you have your website to experiment with. Thus we can say, it is one of the excellent ways of gaining expertise in the field.
#3 Join a Professional Course
Gaining knowledge on your own and implementing them is an excellent approach to building a successful SEO career. To become an expert, you need the proper guidance and certification. Suppose you want to start your professional career and apply for a job. Companies' first requirement for their profits is certification from an esteemed institute, as they cannot risk their business by hiring a non-certified candidate for the position.
When you join a professional academy Like DigitaLearn, you learn from industry experts and work on live projects. This not only enhances your overall personality but also builds confidence so you can face every challenge coming your way. Thus, we can say that joining a professional and well-recognized institute for an SEO course will help you pave your way for an exciting future.
#4 Do not Stop Learning SEO
Search engine optimization (SEO) is an ever-changing field, and it requires consistent efforts and learning to be in the industry. Do you know how many changes the search engines have every day and their impact on your SEO rankings? Search engines are constantly evolving to provide a better user experience to their users, and you need to be aware of all these changes to get the best ranking on the SERPs. But how will you achieve this position when everything is changing so drastically?
SEO experts cannot learn once and implement them forever, unlike the other fields. The best SEO expert is the one who is always well-updated about the evolving nature of the industry and never stops learning. You need to keep reading about the changes to implement them to get a better ranking to become an expert.
#5 Keep a Look at SERPs
The Search Engine Results Pages (SERPs) is where all your important stuff resides. The SEO experts need to focus on each change on the SERPs. Here you get an idea about what you can do to achieve high rankings on the page. Observing the SERPs will be an excellent method to keep yourself well-updated about the changes if you want to become an SEO expert.
Also, you can quickly learn the patterns and strategies of your competitors that help them secure the top search engine results rankings. You can easily understand what type of content is trending, the type of content preferred by the search engines, and how specific content is performing so well. Also, the kind of trending keywords and user queries on the internet to help you build your unique strategy.
Start Now for an Exciting Journey!!
After reading the above five tips, you must be thinking learning SEO isn't as simple as it sounds. The industry is full of challenges, and you need to have a good grasp of the methods and techniques to overcome all these. If you follow these above steps, you can strategically move towards building a successful career. Start now to learn the complexities of the field and have a lucrative career.